A notorious Christian preacher who encouraged his congregation to eat live snakes has been arrested on animal cruelty charges after photographs of the unappetising scene were posted on the church's Facebook page.
Penuel Mnguni, a preacher at End Times Disciples Ministries in the poor district of Soshanguve, north of Pretoria, told his followers the snakes would taste like chocolate.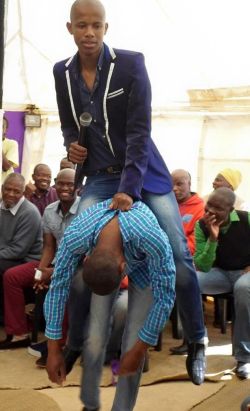 Mnguni appeared briefly in court where he was released on £75 bail pending a future court appearance, but remains unrepentant.
"I picked that snake from the bushes," said Mnguni, speaking through his spokesman Eddie Nkuna (speaking to South Africa Latest News).
"Romans 14 says a person with strong faith can eat anything. We are not scared of snakes, they are beneath us."
Mnguni - who considers himself a prophet and leads his services from a tent - says he drew on teachings by Rev. Lesego Daniel of Rabboni Ministries for inspiration. Lesego made his followers eat grass and drink petrol.
Mnguni claims he has been persecuted for his stunts, but when doubters came to one of his services they were soon converted. He now has around 150 followers.
"I started this ministry last year on 26 March," he said. "God revealed a vision for me to change people's lives. So far I have faced a lot of persecution from people and pastors around me. They say what I do is not from God but when they come to the service and listen to me preach they think otherwise."
Mnguni also posted photographs in which he "turned a parishioner into a horse" and rode on his back, and fed a girl the hair of a fellow worshipper.
"He was doing a lot of things that were unacceptable, both to his congregation and the snakes," SPCA inspector Andrew Kekana told Mail Online.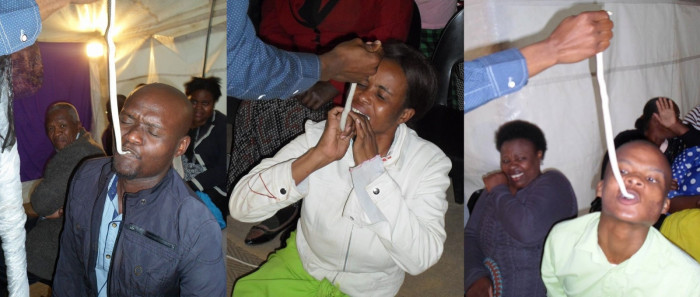 "But our jurisdiction only relates to animals, so we can only lay a charge against him for that.
"The pictures are evidence of illegal possession of indigenous protected snakes and cruelty to them.
"We have asked other pastors to help raise awareness against animal cruelty, and if snakes or other animals are abused in this way, the SPCA will act."