South Africa's President Jacob Zuma has announced he will appeal against the ruling of the High Court in Pretoria that nearly 800 corruption charges against him, dropped in 2009, should be reinstated.
As the leader is battling against growing discontent and calls to step down, IBTimes UK looks at his life and political career, marred by corruption scandals and allegations of rape.
From poverty-stricken childhood to anti-apartheid fight
Born into a poor family in Nkandla in 1942, Zuma did not receive formal schooling. He was raised by his mother, a domestic worker, after his father died when he was very young.
In 1959, he joined the now ruling party African National Congress (ANC) and a few years later he became a member of the party's armed wing, Umkhonto we Sizwe. The armed wing, co-founded by anti-Apartheid leader Nelson Mandela, engaged in an armed struggle to overthrow the government, then ruled by a white minority.
In 1963, Zuma was arrested and sentenced to 10 years' imprisonment after being convicted of conspiring against the government. He served the term together with Mandela and other ANC leaders in a prison on Robben Island.
After being freed, Zuma lived in Mozqmbique and Zambia and returned in South Africa only in 1990, after the government ended a 30-year-long ban on the ANC. Upon return, Zuma was appointed chairperson of the ANC for the Southern Natal region.
When in 1994 the country ended the apartheid regime and the ANC became the ruling party, Zuma was appointed ANC's national chairperson. He became deputy president of South Africa in 1999.
Zuma observes the Zulu tradition and is a polygamist. He married six times in total, has 21 children and has married twice since becoming president in 2009 in lavish traditional ceremonies at his residence in Nkandla, KwaZulu-Natal province.
Arms deal and rape charges
Allegations of money laundering and racketing against Zuma, the then president Thabo Mbeki, and other ANC members emerged in 1999, after the ANC signed a controversial $5bn arms deal.
Totalling 30bn rand (£2.5bn; $5bn), the deal enabled the ANC to purchase weapons to modernise the country's defence force. It was the largest arms deal since the end of apartheid in 1994, and involved several European companies.
A first investigation conducted in 2000 concluded that the party had not acted illegally. However, the arms deal was probed again following the emergence of allegations of bribery. Zuma was dismissed as deputy-president in 2005 after his former financial advisor Schabir Shaik convicted of corruption over the 1999 deal.
Zuma was also charged, but the case was controversially dropped a few months before the 2009 general election that saw Zuma emerging as president. Between all this, in 2006 Zuma stood trial and was acquitted of raping an HIV-positive family friend with the court ruling the sexual act was consensual.
In 2011, Zuma announced a commission of enquiry on the arms deal, which only started in 2013. The leader repeatedly said he would step down if found guilty of any wrong-doing.
In April 2016, the commission cleared those involved in the deal of any wrongdoing. A few weeks later, the High Court in Pretoria said dropping the charges was "irrational" and did not follow correct procedure. However, both Zuma and National Prosecuting Authority chief Shaun Abrahams said they will appeal against the decision of the High Court. Abrahams argued corruption charges against the leader should not be reinstated.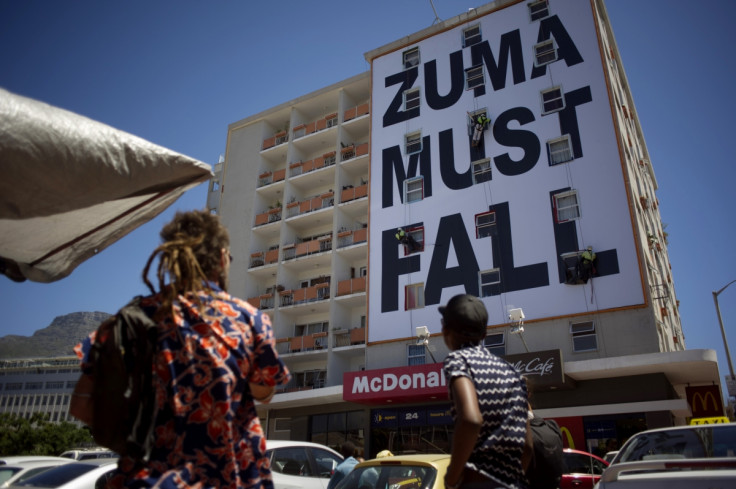 Allegations of corruption, discontent and constitutional breach
Zuma is facing mounting pressure and has been urged to step down following growing discontent and allegations of corruption. The president is accused, among other things, of having close ties with the controversial Gupta family who are accused of wielding excessive political influence in the country. The Gupta family denies the allegations.
Zuma was also at risk of being impeached in April after the country's Constitutional Court ruled that the leader, and the National Assembly, breached the constitution for failing to repay state funds used to renovate Zuma's Nkandla private residence, in KwaZulu-Natal province.
In spite of scandals and allegations of corruption and sexual violence, Zuma's poor upbringing and support for family values have gained the leader wide support, particularly in rural areas.
However, some analysts believe the president will soon lose the trust of influential members within the ANC. Earlier in March, the governing party dismissed reports that Zuma offered to resign following increasing allegations of corruption.