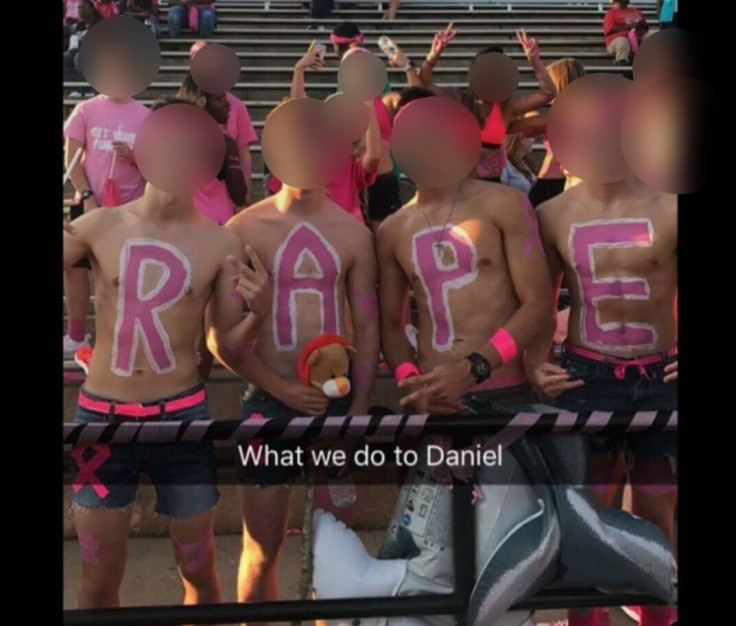 Four high school students in South Carolina sparked outrage when they attended a football game with the word "rape" painted across their chests. A photo of the four boys with pink letters spelling out the word on their bare chests was shared on Snapchat and captioned: "What we do to Daniel."
The picture provoked a furious response, with social media users accusing the students of promoting rape culture and "beyond unacceptable behaviour".
"Wow....beyond unacceptable. Rape is not a joke and these young men deserve severe punishment," one man wrote on Facebook.
"The Trumpazation of America where the anti-PC white boys express the worst in human behavior," another commented.
The students, who have not been identified, were attending a football game organised as part of a "touchdown against cancer" series to raise money for St Jude's Children's Hospital.
Kyle Newton, director of external affairs for school district 5, told local media that the students were supposed to stand with others to spell the words "bump cancer". He said that the students had been punished for their actions but did not give any further details.
A picture of the boys, with blurred faces, was shared on the Facebook page Anderson 5 Citizens for Quality Education. "Using the threat of rape, even as an analogy, is not behavior that any school or any parent should (or hopefully would) condone," the post alongside the photo read.
"Rape culture in high school and college is a real threat to many students. The juxtaposition of a violent message with the breast cancer awareness symbology is of particular concern. The assumption these young men seem to have made is that their position and privilege allows them to make 'jokes' about rape as a viable threat," the group said.