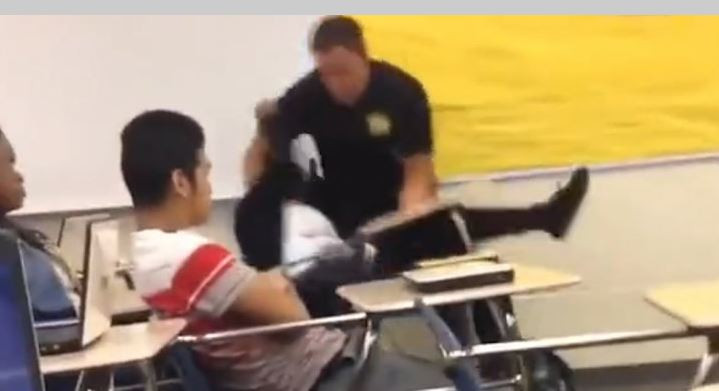 A South Carolina police officer was fired on Wednesday (28 October) after a video captured the moment he threw a high school student across a classroom earlier in the week. Richland County Sheriff Leon Lott announced that deputy Ben Fields was fired from the department for using "excessive force" during the arrest of the female black student.
The incident took place at Spring Valley High School on 26 October after the 16-year-old black female allegedly refused to comply with her teacher's demands to put her phone away. The video shows Fields putting the girl in a chokehold and throwing to the ground, before dragging her across the classroom full of students, pinning her to the ground and placing handcuffs on her.
Fields has now been suspended without pay and is banned from school district properties, the Washington Post reported. County Sheriff Leon Lott said that Fields' actions in the classroom was "unacceptable" and did not follow the training he had received as an officer.
"From the very beginning what's caused me to be upset and continues to upset me is the fact that he picked up the student and threw the student across the room," Lott said at a press conference on Wednesday. "That is not proper technique and should not be used. That is a violation of our policy. He could have done a lot of things that he is trained to do, but he was not trained to throw the student."
The hashtag #AssaultAtSpringValleyHigh was trending across the United States hours after the unidentified student was arrested as thousands took to social media to condemn the incident. Democratic presidential candidate Hilary Clinton was among them, tweeting: "There is no excuse for violence inside a school."
However, it appears that this is not the first time officer Fields has been involved in an incident like this one. According to Reuters, court records indicate that Fields has been named as a defendant in two federal lawsuits, one of which claims he "unfairly and recklessly targets African-American students with allegations of gang membership and criminal gang activity". In 2007 a jury voted in favour of Fields after he was accused by a couple for unreasonable and excessive force while investigating a noise complaint.