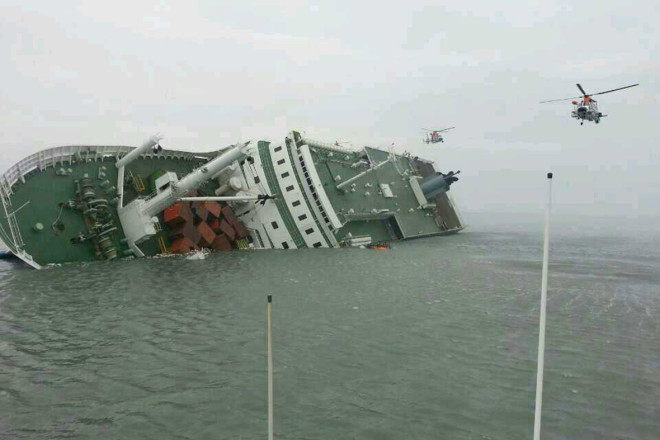 All 15 crew members of the sunken South Korean passenger ferry Sewol have been taken into custody by police after four more people were arrested on Saturday.
Prosecutor Yang Jung-jin said in a statement that two helmsmen and two members of the steering crew were detained and face criminal negligence charges, the Associted Press reported, along with 11 others, including the captain Lee Joon-seok, who was criticised for delaying evacuation from the sinking vessel.
Authorities also reportedly raided the home of 73-year-old Yoo Byungun, the head of the family that owns the ferry's shipping company Chongheajin Marine Co Ltd. Prosecutors also seized another ferry run by the company and found life rafts and escape shoots that were not working properly.
The offices of an accountant who is affiliated with the company were also visited by investigators, and travel bans were imposed on eight current and former executives of the Korea Register of Shipping – the body responsible for issuing marine safety certificates.
The Sewol passenger ferry capsized on its way from Incheon to the southern tourist island of Jeju on 16 April with 476 people on board.The death toll currently stands at 187, with at least 115 people unaccounted for.
Divers searching the sunken vessel discovered the bodies of 48 teenage girls on Friday. The girls, who are believed to have been students at Danwon High School, had all been huddled in one room as seawater rapidly filled the lower decks of the vessel as it sunk upside down.
The girls, who were aged between 16 and 17, were all wearing life jackets and had crowded into the cabin, which could only hold 30.
Around a quarter of the 187 bodies recovered so far were found in waters outside the sunken vessel and search teams fear that some of those missing may have drifted further out to sea.
Authorities have mobilised eight trawlers and installed 13km long nets anchored to the seabed across the Maenggol sea channel to prevent bodies from being swept into the open ocean.
On Friday, the South Korean government admitted that some bodies recovered from the ferry were misidentified and given to the wrong families.
Seoul has now ordered bodies only to be released to families after DNA tests, fingerprints and dental records have been confirmed.
US President Barack Obama, who is currently on a presidential visit to South Korea, expressed his condolences for the lives lost on Friday and presented South Korean leader Park Geun-hy with the American flag which flew over the White House on the day of the disaster.
"So many were young students with their entire lives ahead of them," he said. "I can only imagine what the parents are going through at this point - the incredible heartache."