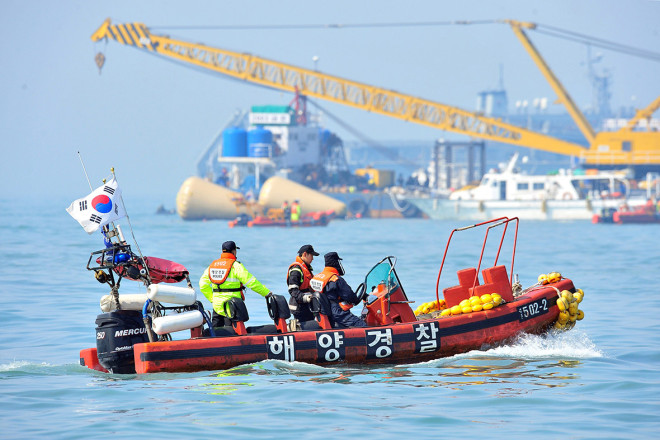 A small boy and a girl tied their life jackets together so they wouldn't be apart in their final moments, as the Sewol ferry sunk in South Korea's worst maritime disaster in decades.
The heart rending act of togetherness was discovered by a diver taking part in the rescue operation on Thursday. He found the pair underwater and was forced to separate them because it was impossible to bring both bodies to the surface at once.
Speaking after he had retreived their bodies, the unnamed diver told the Kyunghyang Shinmun newspaper: "I started to cry thinking that they didn't want to leave each other."
The two youngsters were among 476 passengers, many of them children and young people. The confirmed death toll was 171 on Thursday, with the figure expected to rise further.
It is the latest in a series of moving incidences involving victims who were on board the Sewol ferry when it went down off during a routine trip from Incheon to Jeju Island.
Earlier this week, searchers found the body of a South Korean boy who was the first to alert authorities that a ferry he was travelling on with hundreds of other children was sinking.
The boy, said to be surnamed Choi, was identified by his parents who recognised his body and clothes after they were retrieved from the sunken vessel by divers. A DNA tests is expected to confirm the identity.
Choi made a frantic distress call to the emergency 119 number which put him through to the fire service, and then to the coastguard, minutes before the Sewol, a 146-meter (480-foot) vessel, capsized off South Korea's southern coast.
"Save us! We're on a ship and I think it's sinking," he said.
Around 700 divers are working at the scene as it becomes a recovery operation, instead of a rescue mission.
Relations of victims on board the ferry grappling with fear and grief heavily criticised the authorities for the slow pace of the rescue operation.
Meanwhile, students at the school attended by many of the victims are to return to lessons. More than 300 students at Danwon High School were on board the vessel when it sunk. The confirmed number of dead from the school stood at nearly 250 students and teachers on Thursday.