South Korea to send special envoys to 5 countries in the wake of North Korea missile launch
The envoys will meet high-ranking officials in US, China, Japan, Germany and Russia to resume denuclearisation talks.
New South Korean President Moon Jae-in has named special envoys to deliver messages to his key dialogue partners in the US, China, Japan, Germany and Russia in order to bring more stability to the divided Korean peninsula. The announcement from the presidential Blue House office on Monday (15 May) comes after North Korea launched yet another missile over the weekend.
The envoys will meet high-ranking officials in the five countries, four of which are part of the six-party talks involving six nations on ending Pyongyang's aggressive pursuit of nuclear and missile programmes.
The meeting will see the diplomats briefing the countries about the Moon government's policy plans and exchanging opinions on how to establish firmer ties against a belligerent North Korea, the presidential office said.
The move is also reported to indicate the new South Korean president's intention to restart the denuclearisation process.
The envoys include Hong Seok-hyun, former ambassador to the US and former chairman of South Korean newspaper Joongang Ilbo and broadcaster JTBC. He will travel to the US, Reuters reported the presidential office as saying.
Former prime minister Lee Hae-chan will be heading to China while former parliament deputy speaker and veteran Democratic Party lawmaker Moon Hee-sang will visit Japan.
Moon is sending former Incheon city mayor and another Democratic Party lawmaker Song Young-gil to Russia, while Cho Yoon-je, one of the president's economic policy advisers during his election campaign, will embark on a trip to Germany.
Hermit Kingdom is not that isolated: A list of North Korea's allies
"The special envoys will deliver a personal letter from President Moon Jae-in describing his willingness to boost cooperation with the countries," a statement from Moon's office said.
The envoys are also expected to arrange for a meeting between Moon and his counterparts in those five countries. The diplomats are said to depart Seoul at the earliest, local media reported.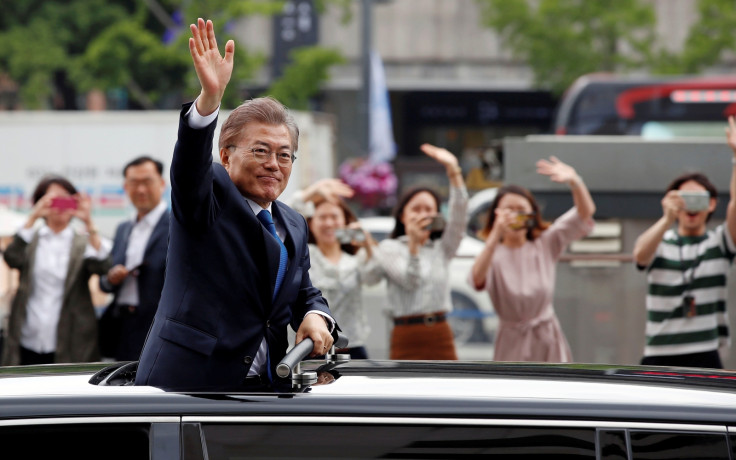 The six-party talks include the US, China, Japan, Russia, South Korea as well as North Korea. Moon is reported to have noted the need to resume the denuclearisation talks that have been on hold since North Korea withdrew from them in 2009.
Moon's decision to establish firmer ties with the five countries came after North Korea said on Monday that it had successfully conducted a newly developed mid-to-long range missile on Sunday. The latest in the series of missile launches was supervised by the hermit kingdom's leader Kim Jong-un.
Pyongyang said that its missile test was aimed at verifying the capability to carry a "large scale heavy nuclear warhead".
© Copyright IBTimes 2023. All rights reserved.