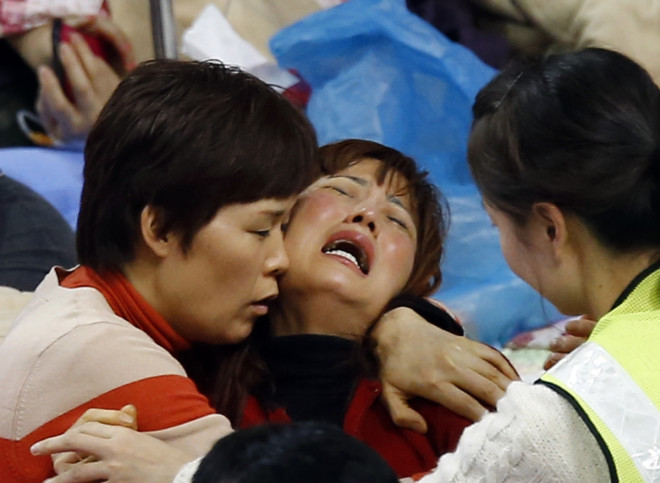 The school teacher was found dead near the gymnasium where relatives of the 268 people still missing from the ferry disaster have been staying. "The precise cause of death is still under investigation," a police official told AFP.
Yonhap news agency cited police as saying Kang Min-Kyu was found hanging from a tree having apparently committed suicide.
There were also revelations that the captain was not in charge of the South Korean ferry that capsized two days ago, as anger spread over stalled rescue efforts for missing passengers trapped by the submerged ship. The third officer was at the helm of the ferry that capsized off South Korea, investigators say.
There were grief-stricken scenes as parents called on officials to explain what they see as the inadequacy of the rescue operation. "It's been two days but no one has been brought out alive," complained Lee Yong-Gi, whose son was among the missing students.
"I firmly believe that the kids are alive. We need to rescue them as soon as possible. But officials are dragging their feet," Lee told AFP.
Another father accused the officials in charge of indifference and deception in an appeal which was broadcast live on television.
"The government lied yesterday," he said, speaking from a Jindo gymnasium. Hundreds of anxious relatives have been sleeping on the floor, waiting for news of their loved ones.
Disputing the official figures of hundreds of divers, vessels and aircraft being deployed, he said he and other relatives had visited the rescue site and seen only a dozen ships and helicopters.
"Everyone, is this the reality of South Korea? We plead once more, please save our children," he said.
A coastguard official trying to brief the relatives was pushed and slapped around the face.
The coastguard says more than 500 divers have been working at the accident site, but strong currents and bad visibility have hampered attempts to access the submerged vessel in the slim hope of finding survivors.
"Visibility is almost non-existent. You can hardly see your hand in front of you face," said one diver when he returned to the harbour at nearby Jindo island.
Two divers managed to partially pry open a door on the side of the ship, but did not swim inside, the coastguard said. Dive teams are also said to have bored holes in the hull and injecting oxygen into the ship.
Three giant, floating cranes reached the disaster site, but regional coastguard commander Kim Soo-Hyun stressed they would not begin lifting the multi-deck ferry until they were sure there were no survivors inside. "I want to be clear: There won't be any salvage work done against the will of the families," he said.