South Sudan has come under fire for allegedly arresting and deporting a journalist who was "too critical of the government". Justin Lynch, a freelance journalist working for the Associated Press (AP), claimed on Twitter he was arrested by government forces without explanation.
"The officers did not officially present me with a reason for my arrest and deportation, but repeatedly said my reporting was too critical of the government. As an international journalist, it is an unfortunate reality that I am privileged compared to my brave South Sudanese colleagues who are frequently the victim of intimidation or even death," he said in a tweet as he arrived in Uganda's capital Kampala on 6 December.
Lynch had been reporting on alleged abuses carried out by government troops in South Sudan, which has been ravaged by a civil war since 2013.
The Committee to Protect Journalists urged authorities to reverse the expulsion.
"The expulsion of Justin Lynch is yet another illustration of how much President Salva Kiir's government fears independent media coverage," said Murithi Mutiga, CPJ's East Africa representative.
"South Sudan needs independent journalism now more than ever. The government should reverse this decision and allow journalists to do their job without harassment."
South Sudan Minister of Information Michael Makuei said he had no knowledge of the deportation and would investigate.
Both the South Sudanese embassy in London and Kiir's press secretary have not responded to a request for comments.
In December 2015, rights groups already alleged the country was cracking down on media in a bid to suppress debate on how to solve a civil war that has claimed thousands of lives.
CPJ said in a July 2016 report that harassment of the media was ongoing in the war-torn country. The organisation made the remarks after authorities arrested journalist Michael Christopher in the capital Juba, after allegedly publishing an inaccurate report.
In September, South Sudanese veteran journalist Isaac Vuni was found dead months after he was abducted from the Kerepi area, in the southern part of the country. Vuni, former deputy director of the Ministry of Information, was killed by unknown gunmen, his wife said.
South Sudan conflict
The conflict broke when Kiir, of the Dinka ethnic group, fired his deputy and rebel leader Riek Machar from his cabinet.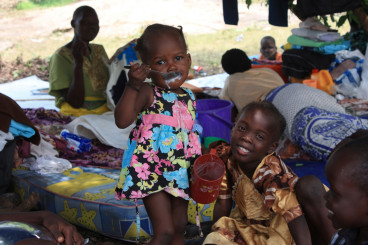 An estimated 50,000 people have been killed and millions displaced amid allegations of crimes against humanity committed by both sides, including rape, torture and the use of child soldiers. Millions are facing severe food shortages due to a man-made famine.
Kiir and Machar have agreed on several peace deals – the last of which was signed in August 2015 – but have failed to control their troops, who have broken every ceasefire since 2014.
Machar, who leads the opposing faction Sudan People's Liberation Movement-in-Opposition (SPLM-IO), fled South Sudan following deadly fighting in Juba in July. He is currently in South Africa, where he said he is seeking medical treatment, but in an exclusive talk with IBTimes UK said he was ready "to go home".