Space Launch System: Watch Nasa fire up its next big rocket engine at highest-ever thrust capacity
The first mission of the vehicle will be an uncrewed flight to the far side of the moon sometime in 2020.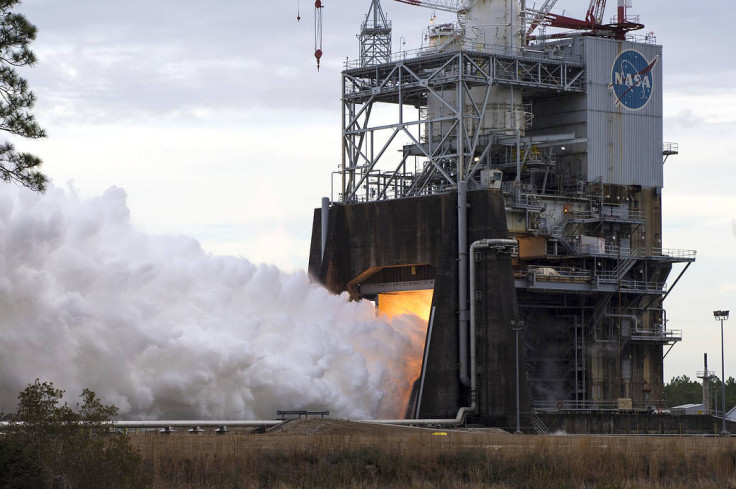 Nasa has released a new video demonstrating the power core of its upcoming behemoth of a rocket, the Space Launch System.
The clip is from a recent "hot fire" test of the engine that is set to power the vehicle designed to take Nasa astronauts on missions to the moon and beyond. The space agency fired the engine, dubbed RS-25, at 113% of its original design thrust level, the highest-ever, in a bid to check its performance and power-rating for a challenging crewed lift-off.
The engine roared with a thunderous sound throughout the 260-second-long test and passed with flying colours.
RS-25 is the same engine that powered Nasa's Space Shuttle, only with improved thrust, new seal, and 3D printed shock absorbers. SLS' first four flights will use 16 of these engines, four for each deep-space trip producing a combined thrust of 8.8 million pounds.
"Increased thrust requirements for the RS-25 are just one of the many changes in the SLS rocket's performance that will facilitate our nation's deep space exploration goals and objectives," said Dan Adamski, RS-25 programme director at Aerojet Rocketdyne.
"While we can analytically calculate engine performance and structural capabilities at these higher power levels, actually demonstrating that performance with an engine hot fire provides the added confidence that these engines will meet all specification requirements demanded of SLS," he added.
This was the fourth such test to have been conducted by Nasa. The number could increase as the space agency inches closer to the first flight of the SLS rocket.
The first mission of the vehicle (Exploration Mission-1 or EM-1) will be an uncrewed flight to the far side of the moon in 2020, while the second will be crewed and carry astronauts in an Orion spacecraft into deep space to orbit the moon.