Authorities say at least 78 people have died after a passenger train crash in Spain's north-western Galicia region.
The eight-carriage train, travelling from the capital Madrid to Ferrol, derailed on a curved stretch of track at a reported speed of about 190kph, twice the speed limit.
"The train travelled very fast and derailed and turned over on the bend in the track," passenger Sergio Prego told radio Cadena Ser.
"It's a disaster. I've been very lucky because I'm one of the few able to walk out."
Maria Pardo Rios, spokeswoman for Galicia's main court, said that 73 people were found dead at the scene and another four died after being rushed to local hospitals. At least 140 people were injured.
State-owned train operator Renfe said that 218 passengers and an unspecified number of staff were on board, as the train came off the tracks on a bend a few kilometres from Santiago de Compostela.
As the train came off the tracks it flipped over several times, with one carriage reportedly flying 15 metres into the air.
Some carriages ended up on top of others, leaving people trapped at the bottom. One passenger, Ricardo Montero, said "we had to get under the carriages to get out."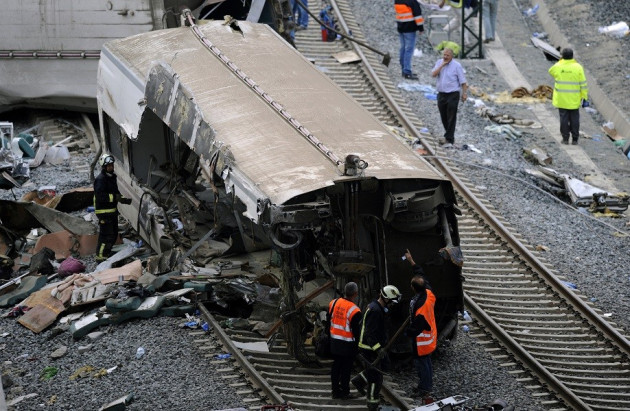 It was the worst train accident in Spain in the last 40 years.
Dramatic scenes were captured as rescuers rushed to the scene and tried to get trapped people out of the wrecked cars.
Smoke billowed from some of the smashed carriages, as bodies covered in blankets lay next to the tracks.
Galicia president Alberto Nunez Feijoo said the scene was "Dante-esque."
Spanish leading newspaper El Pais quoted the train driver as telling emergency services "we are humans, we are humans" giving a first account of the accident talking on the radio as he was trapped inside the cabin.
"I hope there are no fatalities as they weigh on my consciousness," the driver said.
Authorities have opened an investigation on the crash, which Government officials believe is an accident. "We are moving away from the hypothesis of sabotage or attack," one unnamed official said.