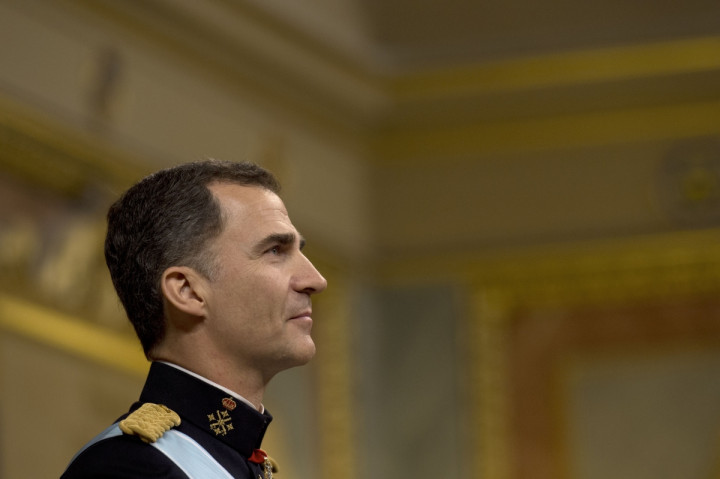 Spain's new king, Felipe VI, has been sworn in as head of state by parliament in Madrid.
After leaving the royal palace with this wife Letizia this morning, Felipe arrived at the parliament building in a Rolls-Royce ahead of a motorcade through Madrid's streets.
"I'm beginning my reign with great emotion," King Felipe, 46, told lawmakers. "I know the responsibility that this duty entails and I have great hope for the future of Spain."
Felipe acceded to the throne at midnight after his father Juan Carlos abdicated.
His proclamation comes as Spain slowly remerges from a double-dip recession and with the central government facing growing calls for independence from Catalonia and the Basque.
Felipe maintained he supports a united Spain while acknowledging those calls for more regional autonomy, saying that "unity is not uniformity" and that the country's strength is based on its diversity.
"I want to reaffirm, as King, my faith in the unity of Spain, of which the crown is a symbol," Felipe said.
"Diversity is part of our history. It makes us stronger and we must make sure we support it."
In his speech the new king paid tribute to his predecessor's role in the country's transition from dictatorship to democracy.
"He had an exceptional reign which will be now part of our history," Felipe said. "I thank him for what he has done to achieve democracy and unity for the Spanish people."
He then pledged his loyalty to parliament and its democratic principles. "You will find a loyal head of state that is ready to listen," he said.
Before the speech, Felipe swore an oath in front of Spain's 18th-century crown and 17th-century sceptre.
"The parliament has great hopes for your reign," Jesus Posada, the president of the Lower House told the new monarch adding that lawmakers looked forward to a "magnificent period of progress and stability for Spain".
Earlier, in the first official act of his reign, Felipe received the red sash of Captain General of the Armed Forces from his father.