Police in Spain have captured one of Britain's most wanted fugitives 13 years after he went on the run from UK authorities.
Mark Lilley, 41, was found naked inside a panic room behind his wardrobe in the town of Alhaurin de la Torre, Malaga.
Police said the fugitive was able to control CCTV cameras around his villa from inside the panic room. He had gone into it after being alerted to the police presence by attack dogs in his garden.
Lilley had been living under a false identity and had changed his appearance considerably since his conviction for drug trafficking in 2000.
Spanish police were supported by the country's Special Security Task Force, which conducted a search of the house until Lilley was found.
After locating him, police tried to open the door to the panic room but were unsuccessful. Eventually, Lilley surrendered as he had no other method of escape.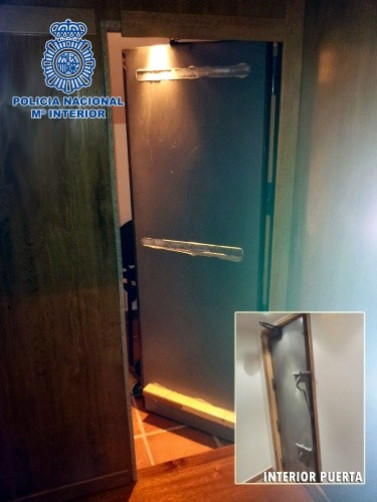 Footage from the arrest shows police covering Lilley with a towel before helping him put on a pair of trousers.
Before his conviction, Lilley had been the head of a drug trafficking organisation. In 1997 his partner was found to have heroin, MDMA, cocaine and cannabis estimated to be worth £500,000 at her home.
She was sentenced to five years in prison in 1997 and the following year, Lilley was found to be in the possession of drugs valued at £250,000, and a gun.
His trial began in 2000 and after he failed to appear before court, a warrant was issued for his arrest. In his absence, he was sentenced to 24 years.
Dave Allen, head of the fugitives unit at the Serious Organised Crime Agency, said: "Lilley was a dangerous man with access to firearms. He had evaded capture for a long time by moving around Spain and using false identities.
"Now he's behind bars where he belongs and extradition proceedings are underway. My message for other fugitives on the run is a simple one - we will hunt you down and you will face justice for your crimes."
Roger Crithell, director of operations at Crimestoppers, added: "We are extremely relieved that this dangerous drug-dealer has been arrested and will be made to face justice."