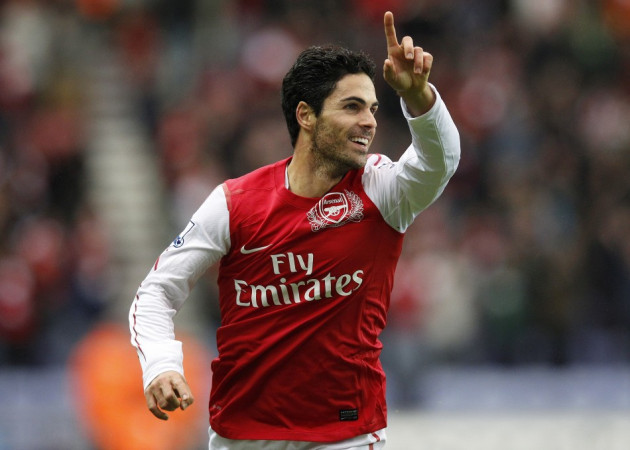 Arsene Wenger has lauded Arsenal summer signing Mikel Arteta after the Spaniard's impressive start to life in north London.
Arteta, 29, signed from Everton in a flurry of deadline day transfer activity in the wake of Arsenal's 8-2 mauling at the hands of Manchester United.
The Arsenal midfielder will face his former club when the Toffees travel to the Emirates Stadium on Saturday.
Arteta scored his fourth Arsenal goal in last weekend's victory at Wigan and Wenger has praised his midfielder's contribution since making the switch to the capital.
"Mikel has taken a big importance in our team very quickly," Wenger told the official Arsenal Web site.
"Of course I knew about his talent, but he is a winner. He wants to win. He is a perfectionist guy who wants to give his heart to the team to win football games.
"He is absolutely fantastic. He's a guy who can bring the extra technical ability and works hard for the team as well - offensively and defensively.
"We are in a job of action, not of talking," he added. "Sometimes we forget that a little bit, that 99 per cent of our job is to act, and one per cent to talk."
The Arsenal coach moved for Arteta following a summer of uncertainty at the Emirates. Former club captain Cesc Fabregas completed his protracted transfer to Barcelona while Samir Nasri was allowed to join Manchester City after rejecting an improved Gunners' contract.
Perhaps inevitably, comparisons were made between Arteta and fellow countryman Fabregas but former Arsenal defender Nigel Winterburn believes the duo perform completely separate roles at the club.
"I think it was a bit of a problem for him early on in that everyone was desperate to compare Arteta to Cesc Fabregas, which was unfair," Winterburn, who spent 13 years at Arsenal, told Goal.com.
"They are both Spanish and very good ball-players, but they perform different roles. I've been really impressed with Arteta, particularly in the last month. He's played a really important role in this great run, controlling the tempo of games and picking out accurate passed.
"He's the kind of player someone like Robin van Persie will really enjoy playing alongside because he will know that the ball is coming and it will be put just where he wants it."