Spanish government shuts down voting system 'annulling illegal Catalan referendum'
Spanish government spokesperson, Íñigo Méndez de Vigo, insisted 'there is no referendum' as electronic voting applications are shut down.
The Spanish government has "annulled" Catalonia's banned independence referendum by shutting down the electronic voting systems.
The national Guardia Civil obtained a court order enabling them to shut down 29 IT applications that could be used for voting and to count the results after Spain's constitutional court ruled that the vote is illegal.
Íñigo Méndez de Vigo, the Spanish government spokesperson, said that Civil Guard agents had disabled the software designed to connect the stations and allow them to share results.
He said the referendum which was set to take place in Spain's wealthiest region tomorrow (Sunday 1 October), had been successfully thwarted, as he insisted "there is no referendum."
With more than a million people expected to take part in the vote, thousands of police officers have been drafted in from across Spain, with orders to clear the buildings by 6am, ahead of the polling stations' planned 9am opening to prevent Sunday's vote from taking place.
Referendum organisers will not be provided with ballot papers or voting lists after police in Catalonia confiscated 10 million paper ballots.
With more than half of the 2,315 polling stations now sealed, some pro-Independence supporters have staged a sit-in at 163 schools to prevent the police from stopping the vote as Catalan leaders pledged to go ahead with the referendum.
"Let's see if they sustain these claims tomorrow", Joan Maria Pique, a Catalan spokesman, told The Telegraph. "We have everything that is needed in a referendum - especially the main thing: voters."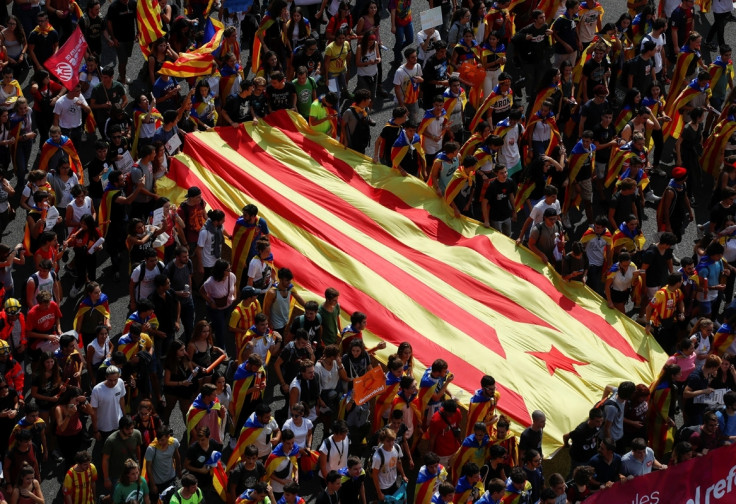 While crowds gathered outside the Catalan presidential palace in Barcelona, in defiance chanting: "We will vote!" anti-independence protesters also took to the streets converging on the presidential palace, waving Spanish flags with cries of "Viva España."
Regional police, the Mossos d'Esquadra, has warned of "disruption of public order" if people are prevented from having their say.
While Catalans have expressed their fear at being confronted by armed police they have pledged to come out en masse, saying if they could not vote at the schools, "then we will vote outside the schools".
© Copyright IBTimes 2023. All rights reserved.