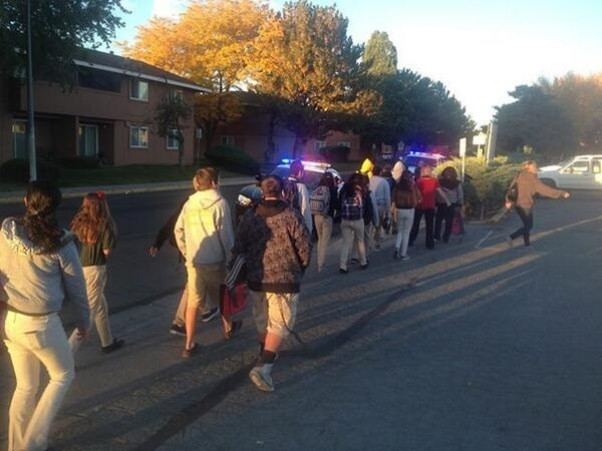 Students at the Nevada school which suffered a terrifying gun attack have been describing the horrors they witnessed during the rampage.
Sparks Middle School was thrown into chaos as a gunman, thought to be a student, wounded two pupils and killed a teacher before apparently shooting himself.
The attacker entered the school early on the morning of 21 October, and began his shooting spree at 7.16am, 14 minutes before the start of classes.
Those who witnessed the attack claim the gunman began his spree by shooting a student he knew.
Abner Lopez, father of a 13-year-old eighth grader who was in the school when the rampage took place, told the Sacramento Bee: "He shot a student and then a teacher tried to stop him and he shot the teacher.
"The kids kind of scattered. School was not open yet, so they ran off into the field. It's a pretty tragic scene."
Lopez said his son, Abner Jr, who was in the same maths class as the attacker, "just heard the gunshots. Then he saw the teacher telling him to calm down, to put the gun down, and that's when he shot the teacher."
Another 13-year-old student, Kyle Nucum, told the Reno Gazette-Journal that he was on a basketball court when he and his friends "heard a pop, like a loud pop."
Nucum claims he then saw a boy who looked about 14, in school uniform, brandishing a gun. A teacher arrived on the scene to confront the boy, only to be shot.
The teacher has been identified as Michael Landsberry, 45, a former Marine who taught maths and soccer at Sparks.
A Facebook page entitled 'Rest Easy Mr Landsberry' has been set up by students in honour of the victim, who celebrated his fifth wedding anniversary just four days before the shooting.
'No words can erase the pain'
Nevada Governor Brian Sodoval has spoken about the trategy, saying he was "deeply saddened to learn of the horrific shooting at Sparks Middle School.
"My administration is receiving regular updates and the Nevada Highway Patrol is assisting at the scene," he added.
Nevada senator Harry Reid added: "My condolences go out to the victims' families and my thoughts are with the teachers, administrators, parents and students at Sparks Middle School who have experienced a traumatic morning.
"No words of condolence could possibly ease the pain, but I hope it is some small comfort that Nevada mourns with them."