The spitfire which dramatically crash-landed at East Midlands Airport yesterday had just returned to flying after an overhaul which last nearly two years.
Experts had spent 23 months painstakingly restoring the iconic World War II plane, one of only 70 air-worthy Spitfires in the world, to mint condition.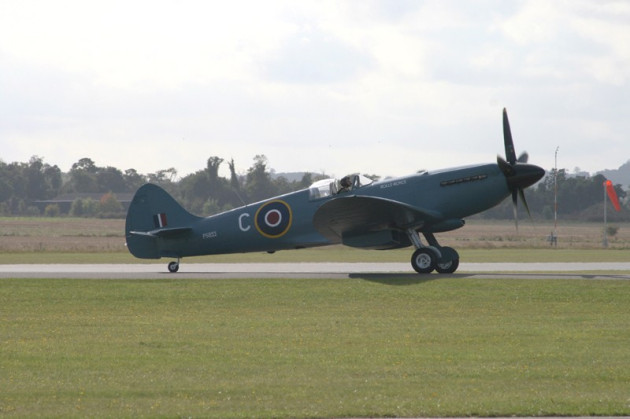 Every major structure and system inside the 1945 aircraft was "dismantled, inspected, repaired and reassembled" during the lengthy process, boasted engine manufacturer Rolls Royce.
But that did not prevent near-disaster from striking at East Midlands Airport on Monday.
The brand-new undercarriage suffered a potentially catastrophic collapse seconds after landing on the runway. A landing gear malfunction relating to the wheels was an early suggested cause of the accident.
On-site fire crews rushed to the scene of the stricken plane. No injuries were reported and no fire broke out in the 36.7 litre v12 Griffon engine craft.
An investigation in the collapse drama was launched by the Air Accidents Investigation Branch.
Rolls Royce stayed tight-lipped on the embarrassing incident. A spokesman told IBTimes UK: "We will co-operate with any investigation which takes place."
Overhauling the Spitfire was done by Aircraft Restoration Company and Historic Flying Limited at the famous Duxford airfield in Cambridgeshire.
With around 100 parts comprising the hydraulic undercarriage system, the potential exists for things to go wrong. But enthusiasts were surprised it happened so soon after a lengthy overhaul.
Marcus Russell is trustee of RAF Manston Spitfire & Hurricane Memorial Museum, in Kent. It owns and maintains another working Spitfire - relying on private donations to cover an annual maintainence bill which runs into thousands of pounds.
He expressed confidence that craft belonging to Rolls Royce will fly again.
"In 1945, the undercarriage on our Spitfire collapsed and it slid off the runway, bending the propeller. It was flying again in just a few months' time," he said.
"I think it looks like something broke connected with undercarriage, judging from what observers said. That caused it to collapse and drop on to the runway."
Russell explained that potential problems are not necessarily always evident during overhauls.
"It could be that it was something that was not changed during the overhaul," he told IBTimes. "Though, as it was a complete overhaul, you would think everything would be done down to the last bolt.
"But if the component was changed just last year and has a service life of five years, for instance, then you might do a visual check and keep it on."
There will be concerns about Spitfire returning to the skies after its brush with destruction, more than 70 years after its finest hour when Spitfire pilots helped repell Adolf Hitler's German Luftwaffe during the Battle of Britain in 1940.
But with no fire breaking out after Monday's impact, the early indications were good for the vintage aircraft.
Cleaning up the debris after the incident proved a headache for travellers, with seven flights diverted to Birmingham from East Midlands Airport.
Only one runway serves air traffic, which meant the Derby airport was totally out of action for four hours.