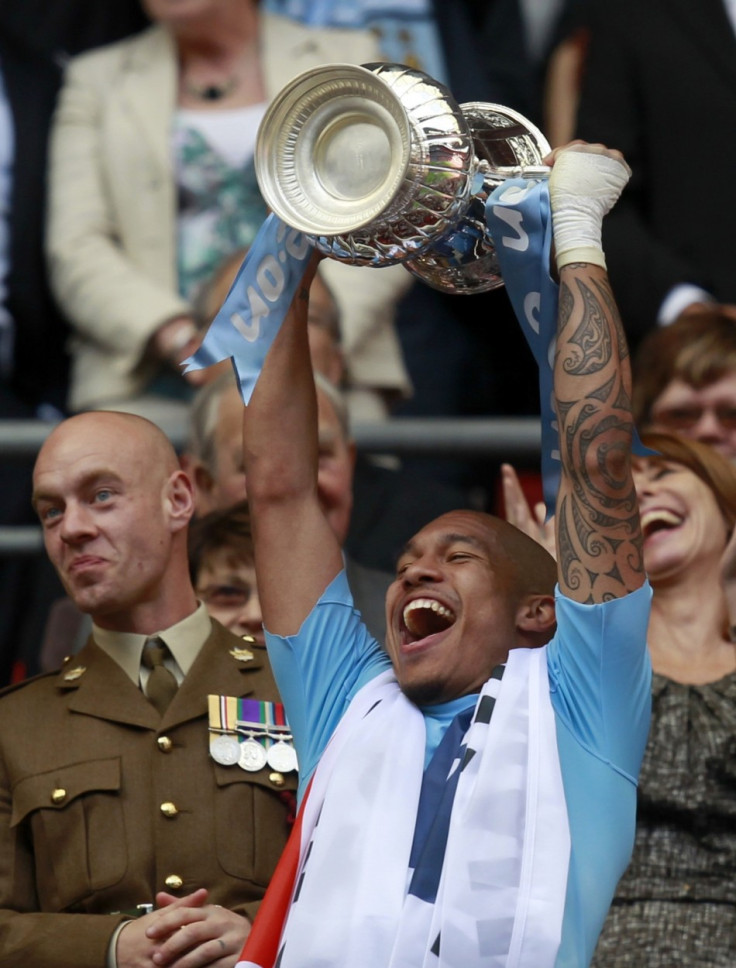 Manchester City midfielder Nigel De Jong has dismissed recent reports speculating about his long term future at the Premier League leaders.
The tough-tackling Holland international is currently embroiled in protracted contract negotiations about extending his current Manchester City deal beyond the end of next season, but thus far neither party have reached a suitable conclusion.
Recent reports have suggested the 26-year-old may look to depart English football if he fails to agree extended terms with Manchester City, but both the club and the player in question are eager to find a resolution to proceedings.
Manchester City signed De Jong in January 2009 under the stewardship of then manager Mark Hughes, but despite the Welshman's acrimonious departure, the former Hamburg star has remained an integral member of Roberto Mancini's squad.
The continual influx of hugely talented midfielders such as Gareth Barry, Yaya Toure, Samir Nasri, and most recently Owen Hargreaves, has not marginalised De Jong and he remains an almost ever present fixture in City's table topping side. The player admits he sees no reason why he would want to leave Eastlands particularly as they appear to be on the cusp of something special.
"There is no concern about my contract." De Jong told The Sun.
"I have spoken my mind, it is up to the club to decide what they want to do now.
"I have been here for nearly three years and I am happy.
"I am here to win prizes. We won the FA Cup last season, now we are doing well in the Premier League. For me there is no reason to move on."
While De Jong's contract talks remain on going, the defensive midfielder admits Manchester City must remain focus ahead of tomorrow night's Champions League encounter against Napoli. The 26-year-old, who began his career at Ajax, believes City must contend with the notoriously partisan Naples crowd.
De Jong said: "There is going to be an intensity because they are fighting for the last chance.
"Everybody knows the stories about Napoli and their fans. It is going to be an exciting game.
"Hopefully everybody can remain quiet and go there for the football game.
"We have to be focused on that. As long as the challenge is on the pitch I will be up for the task.
"Let's just do the talking on the pitch. That goes for the whole team."