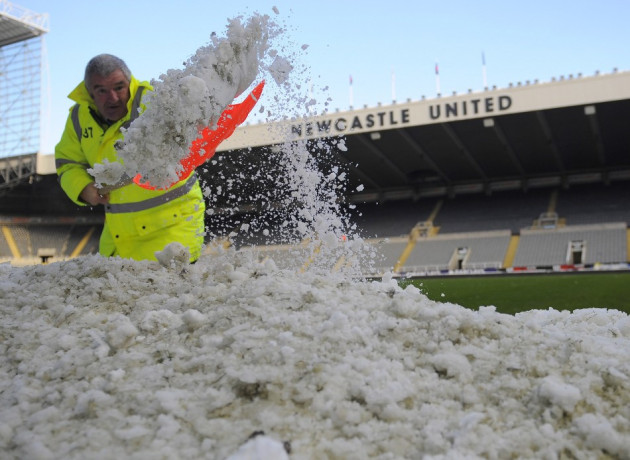 Newcastle United's ground has been renamed the Sports Direct Arena in a controversial move by owner Mike Ashley.
The club's St. James' Park stadium has been temporarily re-branded to "showcase" the sponsorship opportunities available to "interested parties".
Newcastle announced the move was part of a long-term strategy to identify a "sponsor to acquire full naming rights," for the club shirt and ground.
The club have been searching for increased revenue sources since winning promotion to the Premier League last year. A similar plan was floated in 2009 that allowed sponsors to link their brand to the club and led to the ground being renamed "sportsdirect.cm @ St James' Park Stadium".
Although the name was used inside the stadium it was never widely adopted and the club's poor form (they were relegated at the end of the season) did little to attract outside investment.
But now, with the team sitting third in the Premier League, managing director Derek Llambias feels the club should be able to hold their own against the other big players in English football.
Newcastle highlighted the examples of Manchester City's Etihad Stadium and Arsenal's Emirates Stadium in defence of their plan, but both are comparatively new arenas without the historic significance of the Magpies' 119-year association with St James' Park.
In a statement, Llambias explained: "Newcastle United have today announced plans to license the full naming rights to the club's stadium following consultation with international branding experts. The board are committed to generating additional commercial revenue from advertising and sponsorship opportunities.
"The original naming rights proposal, launched in November 2009, invited sponsors to link their brand to St. James' Park, but this did not prove commercially attractive. As such, the club will now seek a sponsor who will be granted full naming rights. Until such time the stadium will be renamed the Sports Direct Arena."
The move has been met with significant opposition from Newcastle supporters and is likely to reignite opposition to Ashley's ownership at a time when local support for his divisive tenure was at its highest.
Nevertheless, Llambias was optimistic about the prospect of investing money in the playing squad, should an official sponsor be found. The move could net the club as much as £15m a year.
"Stadium re-branding offers a lucrative way for clubs to secure significant additional income. When we initially launched our plans at the end of 2009, we invited sponsors to attach their brand to that of St. James' Park," Llambias added.
"Naming the stadium the Sports Direct Arena helps us to showcase the opportunity to interested parties. We are now actively seeking a long-term sponsor wishing to acquire full naming rights for the stadium.
"Our shirt sponsorship deal with Northern Rock will also expire at the end of the season, which presents would-be sponsors with the opportunity to acquire both the naming rights and shirt sponsorship deals."