Goths are easy to pick out with their dark clothes and ashen makeup, and normcore kids wear Steve Jobs jeans and sneakers. So how can you spot a member of the white nationalists of the alt-right after the group raised their profile on the back of President-elect Donald Trump's campaign?
We rounded up some products that allow you to pick out their members in a crowd.
"Hate America? Then get the hell out. We'll help you move. Show Leftists the door with this kick ass design," says the online shop at Breitbart — a website that has served as the highest-profile platform for the group — next to a design of a moving truck.
In a recent interview Breitbart columnist Milo Yiannopoulos called the group "a very young, vibrant, exciting new movement of Conservatives in America" and said he wants to give them "a fair hearing."
The alt-right has been roundly condemned after video emerged this week of some of their members giving the Nazi Party salute during a speech by one of the movement's figureheads, Richard Spencer, in Washington D.C. Saturday (19 November).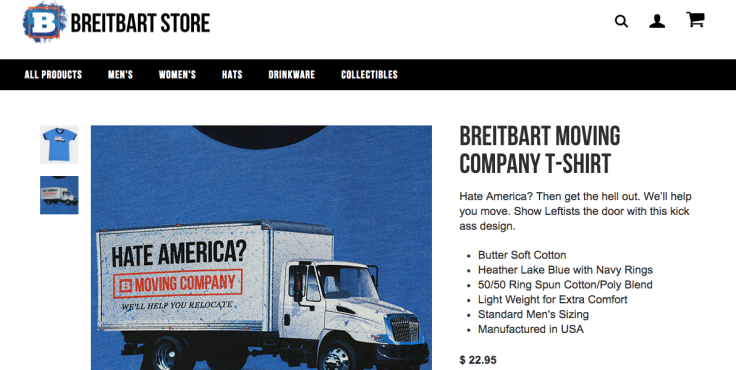 People like Jonathan Greenblatt, CEO of The Anti-Defamation League, a 100-year-old Jewish civil rights group, describe the 'alt-right' as "a loose-knit group of white nationalists and unabashed anti-Semites and racists."
Breitbart has risen to prominence after its former chief Steve Bannon, was appointed as Trump's head strategist after he lead the last leg of his 2016 election campaign.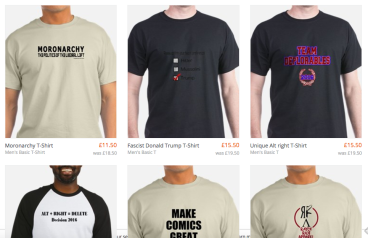 Alt-right clothing on other online sites decry diversity in mixed culture societies as "forced assimilation." Some list Trump as their candidate of choice above German and Italian fascists Hitler and Mussolini.
"Defending our nation's borders from endless invasion is a thankless job," says another T-shirt with a "Breitbart Border Patrol" logo. "Declare your solidarity with our nation's defenders in this tough-looking tee that just might make an illegal alien turn around and head home," says the description on the online store. On the inside of the shirt's collar is the hashtag "#war."
Another shirt has a graphic touting the "Border wall construction Co." — an imaginary company that would conceivably build the expensive 3,110km-long wall along the US-Mexico border that Donald Trump promised he would get the central American nation to pay for during his campaign.