Police are investigating an assault on Tottenham Hotspur fans by masked men flashing Adolf Hitler salutes on the eve of the European clash with Lyon in France tonight (Thursday).
Thugs smashed windows and stormed into the Smoking Dog bar in Lyon as Spurs fled through the back door. Missiles and smoke bombs were hurled and three fans were taken to hospital.
It was the second attack on Spurs fans in as many European away games, after knife-wielding hooligans in Rome targeted the north London club's supporters in November.
Local reports suggested neo-Nazi thugs were behind the latest violence, not Lyon fans. The Rome attacks ahead of a clash with Lazio were not anti-Semitic in nature.
But this time Metropolitan Police officers are probing a link between the violence and anti-Semitism, IBTimes UK has learned.
The English landlord of the Smoking Dog, Dave Eales, said the attack came in two waves and security staff hired by Tottenham Hotspur rushed to the scene.
"The front of the pub, made of reinforced glass, was attacked by 20 to 25 people," he said.
"They threw projectiles through the windows. There was a stand-off. They didn't get into the bar. Then it calmed down.
"[But] then they came back a second time and it all started again. There were three injured Tottenham fans taken away by ambulance.
"One of them had a head injury. I'm not sure how bad it was."
Tottenham Hotspur claimed the number of attackers was up to 50.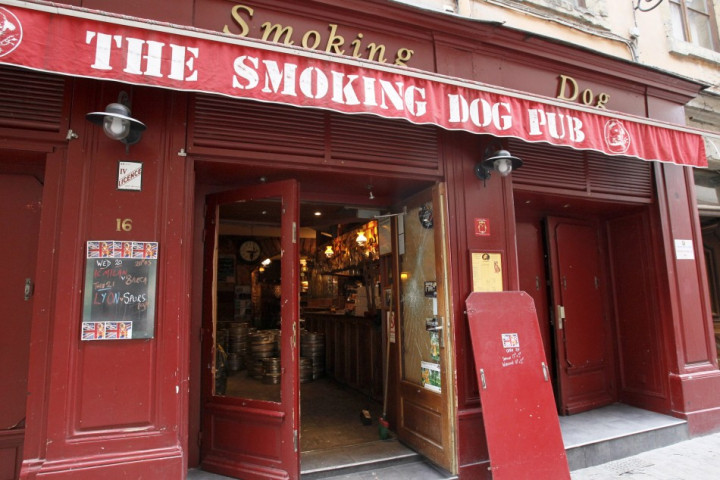 Witness Christian Radnege said the bar was spattered in blood.
"Rome was fresh in everyone's minds. No-one tried to fight back but everyone realised this was serious.
"They left and then we thought that was it but five minutes later it started again. More stuff was thrown in through the windows and then they left.
"The intruders did not get in to the bar because it was full of Spurs fans. There were drips of blood left in the bar."
IBTimes UK contacted Tottenham Hotspur but the club declined to comment beyond a statement published on Twitter.
"The situation was dealt with and arrests were made within the hour. Three fans sustained minor injuriesand received prompt medical assistance," a spokesman said.
"Spurs officials and stewards will be in the city throughout the day, along with match-day French police ahead of kick-off."