Guinness's 'infamous' stout with its unmistakable silky body and creamy white top is certainly the official drink of St Patrick's at most pubs, club and backyard bar setting up their barrels for March 17 to pour pint after pint of the black stuff. However, for those not won over by the signature stout or who simply want to indulge in an alternative Irish drink, there are some incredible options to pick from. Whether you like traditional whiskies, fresh gins or just fancy a pint of something different make sure you try some of the fantastic spirits and beers being produced in Ireland.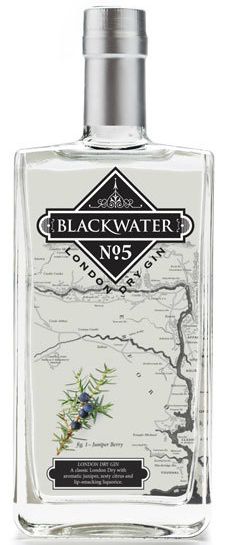 Blackwater Gin, Co. Waterford
This small-scale distillery in the heart of Waterford's soft rolling hills and extremely green countryside have worked hard to retain the heritage of the city within their London Dry gin.
White's of Waterford was one of the largest spice importers during the Victorian period and the Blackwater team have focused on only using the botanicals available during that period. A move that has led them to using a host of previously overlooked ingredients. After trying out this formula they have ended up with two ingredients that work perfectly. The gin is delicious with just the right bite of juniper but with a crisp, fresh taste that is a little fruitier than your average London Dry.
Blackwater No 5 London Dry Gin 41.5%, 50cl; €31.99 (£25), Celtic Whisky Shop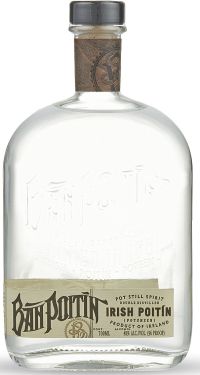 Bán Poitin, Co. Cork
Award-winning Bán Poitín (pronounced bawn potcheen) may have been thought up by Londoners but its heart and distillery lie in the little village of Skibbereen in Cork. Based on the old homemade batches of potato-based spirits that were cooked up over the fire and extremely powerful, Ban Poitin is a delicious alternative for the regular drinker. The clear spirit makes it look a little more powerful which it is but it has a whiskey smoothness that can be sipped (carefully) or mixed. For St Patrick's the 'Bán & Black' is apparently a must, with a shot of Bán, followed by a shot of Guinness (and repeat until you fall over we imagine).
Bán Poitin 48% (96 proof); 700ml; £44.99, Selfridges

Galway Hooker, Co. Galway
Named after the impressive and swift fishing boats that hail from the West Coast of Ireland, it is best enjoyed with that wild Atlantic wind in your face by the bay but the flavour gives you that feeling anyway. This light, caramel-coloured pale ale has won Ireland's best beer award twice and was the first permanent pale ale to be made in Ireland. Fresh and crisp with a bold, sweet flavour, the hooker is a very easy drinker.
Galway Hooker Irish pale ale 4.3%; 500ml; €3.50 (£2.70), Drinkstore.ie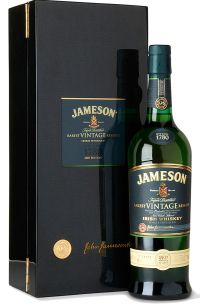 Jameson's Vintage, Co. Dublin
Jameson's whiskey is as much a part of Irish drinking as Guinness and whilst it is now distilled in Cork you can still visit the old distillery on Bow Street in Dublin and try a few batches. Jameson's in its youngest form is a light floral, four-year aged blended whiskey which is a very easy drinker. However, the range goes all the way up to the Rarest Vintage Reserve which combines the best of all of their oldest and rarest reserve whiskeys. It is a treat for the mouth and nostrils with a warm, honey fragrance with hints of cinnamon and a rich, chocolatey sweet taste.
Jameson's Rarest Vintage Reserve 40%, 700ml; £360, Selfridges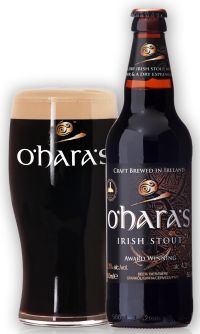 O'Haras Stout, Co. Carlow
If you're crying out for craft in your stout then O'Hara's is your answer, although its distinguishing features from Guinness do not stop there. Launched in 1999, O'Hara's is a delicious, creamy pure stout. The addition of Fuggle Hops, traditional breweing additives for bittering, gives the Irish stout a dark chocolate and coffee flavour. There is no denying that this is a rich beer but you can still easily sink a few of these on St Patrick's Day.
O'Hara's Stout 4.3%, 500ml; £1.99, Waitrose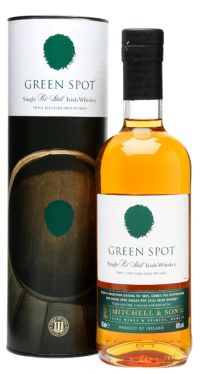 Green Spot pot still whiskey, Co. Cork
For a long time, Green Spot was a local secret in Dublin, being produced solely for Mitchell & Son wine merchants but it is to everyone's benefit that they have widened their remit. Originally, the whiskey Mitchell and Son bought in was provided by Jameson's in sherry casks and given the name Green Spot after the coloured spots that the casks were marked with to distinguish between the ages and green came out on top. When Jameson moved to Cork, Mitchell officially signed off to age their own whiskey in branded casks. The pot still whiskey we drink today has been aged for around 7-10 years in bourbon and sherry casks. They do not bottle a huge quantity every year but it is delicious. Warm, treacle notes with a sweet honey finish, Green Spot is a delicious alternative to your usual whiskey choice.
Green Spot pot still whiskey 40%, 70cl; £36.99