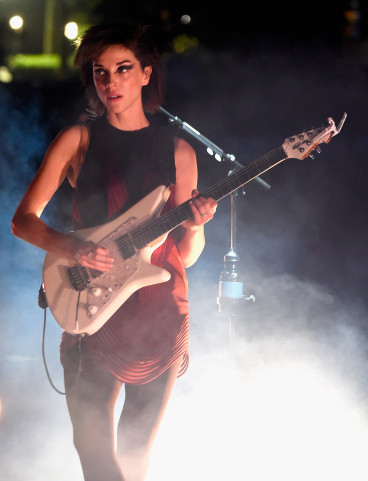 Singer St. Vincent took a dangerous tumble on stage during a concert in Knoxville, Tennessee, on 1 June, when she got a little carried away performing tracks from her self-titled fourth album.
The 32-year-old, whose real name is Annie Clark, had climbed onto a speaker stack towards the side of the stage during the lively set, but lost her footing due to one of the speakers dislodging. She plummeted to the floor, whereupon a member of the theatre staff rushed to her aid.
She was reportedly seen lying on the ground for several minutes before being helped up to continue on with the rest of the show. The indie popstress received treatment after the fall but fortunately only walked away with a cut to the wrist.
The guard who swiftly acted when he saw Clark falling was initially feared to have suffered a concussion, but was later given the all-clear by the medical team.
Following the incident, Clark took to Twitter to let her fans know she was okay and said the security guard was the reason she was only slightly injured. She told her followers: "Patrick, security guard at Tennessee Theater, likely saved my life tonight. #cutsbutnoconcussions #300lbspeakercollapse."
She continued on tweeting into the night saying: "More importantly, Patrick is also ok. Thank god. #cutbutnoconcussion". She followed up the comment about the guard being okay, stating "*in case it wasn't clear that I was referring to both of us in the first tweet*".
Finally, in response to a selfie photograph sent to her by her helper (who has only been known as Patrick, but whose Twitter confirms his surname is Green), Clark called him "a prince" and shared the image of him with a plaster over his left eye, brandishing a smile and a big thumbs up.