Stanford law professor leads campaign to oust judge who sentenced rapist Brock Turner
A Stanford law professor is leading a campaign to oust Aaron Perksy, the California judge who handed Brock Turner a six-month sentence after he sexually assaulted an unconscious woman behind a dumpster outside a party.
The unusually light punishment for a crime which carries a minimum two-year sentence in accordance with state law sparked international anger after the judge said "less moral culpability" was attached to the defendant because he was drunk.
Michele Landis Dauber is at the forefront of the recall campaign and warned granting rapists concessions will only serve to deny justice to victims. She argued that women are now at greater risk of falling prey to sexual predators following Perksy's controversial ruling.
Turner could have faced up to 14 years behind bars and the prosecution requested a six-year jail term. The defendant's father, Dan Turner, claimed his son is paying a "steep price" for what he described as "20 minutes of action".
Speaking to the Guardian, Dauber said Perksy's decision "has made women at Stanford and across California less safe. The judge bent over backwards in order to make an exception ... and the message to women and students is 'you're on your own,' and the message to potential perpetrators is, 'I've got your back.'"
Dauber is a family friend of the 23-year-old victim, who the world has come to know as "Emily Doe" to protect her identity. In a powerful letter to the newspaper, the victim wrote: "I remain anonymous, yes to protect my identity.
"But it is also as a statement, that all of these people are fighting for someone they don't know. That's the beauty of it. I don't need labels, categories, to prove I am worthy of respect, to prove that I should be listened to. I am coming out to you as simply a woman wanting to be heard. Yes there is plenty more I'd like to tell you about me. For now, I am everywoman."
Like the 20-year-old swimmer, Perksy also attended the elite educational institution and captained the school's lacrosse team as an undergraduate. According to NBC News,Dauber said the judge took a lighter approach to Turner due to their similar backgrounds. "I think he was very persuaded by the background of the young man as an elite athlete," she reportedly told the news organisation.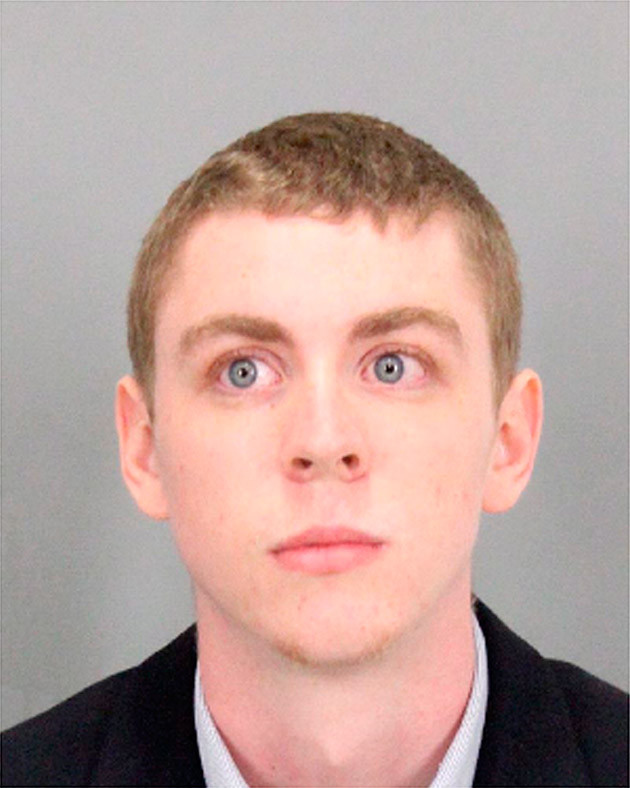 Brock Turner's sentencing photo, from Santa Clara County Sheriff's Office
Santa Clara County Sheriff/Reuters
More than 250 Stanford students signed a letter calling on the judge to impose the minimum sentence at the very least, Dauber noted that Perksy made no mention of it. It read: "A light sentence, such as probation or a few months in jail, would send the incorrect message that this was not a serious crime. This would undermine the trust in the legal system at large, diminish reporting, and possibly make the Stanford community a more dangerous place for all."
Perksy did, however, appear to rely on letters sent by the defendant's friends and families and said: "The character letters that have been submitted do show a huge collateral consequence for Mr Turner."
The stark contrasts could have severe consequences, Dauber warned. According to the Guardian report, surveys have shown that 43% of female undergraduates have been victims of sexual assault or misconduct. But just 2.7% of students who suffered sexual assault reported it to the university and Dauber argues that Turner's case is yet another deterrent to victims.
A statement issued by Santa Clara District Attorney Jeff Rosen on 6 June said: "While I strongly disagree with the sentence that Judge Persky issued in the Brock Turner case I do not believe he should be removed from his judgeship. I am so pleased that the victim's powerful and true statements about the devastation of campus sexual assault are being heard across our nation. She has given voice to thousands of sexual assault survivors."
"Aaron Persky is telling these women don't bother calling police," said Dauber. "Even if you get through a trial and even if you manage to get a conviction, I will not impose a serious sanction."
The recall campaign against Perksy is set to be launched later this week.