After the first trailer for upcoming sequel Star Trek Beyond was released earlier this week, hardcore Trekkies and fans of the rebooted series of films took to Twitter and Facebook to heavily criticise the action-packed, gag-filled teaser. Their main qualm, other than the trailer showing that the Enterprise seems to get demolished within the first few seconds, was that it set nothing like the intellectual sci-fi tone established since Star Trek's beginnings in 1966.
Apparently, they weren't the only ones who weren't too keen on the trailer. Speaking with the website HeyUGuys during the premiere of Star Wars: The Force Awakens in which his plays an alien, on Wednesday 16 December, Simon Pegg (who co-wrote and also stars in Beyond) admitted that he "didn't love it" either.
"It was very action-packed. It was surprising," the self-confessed sci-fi enthusiast said of his thoughts on the clip. "I found [the trailer] to be the marketing people sort of saying, 'Everybody come and see this film, it's full of action and fun'. I didn't love it."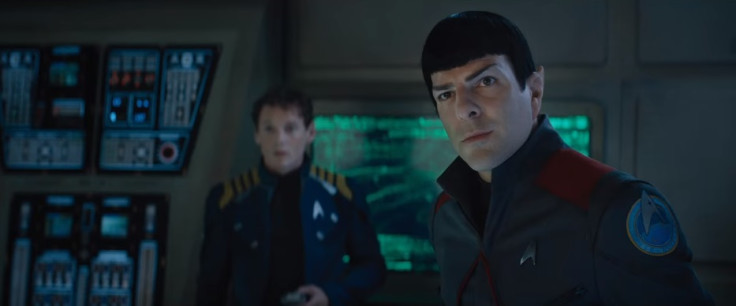 But while he expressed his dislike for the promo, the 45-year-old also reassured fans that "there's a lot more to it than" than what we saw in the less-than-two minute trailer. "There's a lot more story, and a lot more character stuff, and a lot more what I would call 'Star Trek stuff'."
Fans misgivings are understandable given that the modern takes on the franchise are no longer in the hands of JJ Abrams, a director who many believed masterfully rejuvenated the series in his 2009 film. The follow-up which was released in 2013, Star Trek Into Darkness, while also directed by Abrams, was not so well received by critics and left fans of the rebooted movies concerned about which direction it will take in the future.
Fast & Furious director Justin Lin helmed the more recent film and, because of his background in action, many are doubting that he won't get the feel of Beyond quite right.
Pegg will be reprising his role as engineer Scotty for the third time in Star Trek Beyond. Chris Pine, Zachary Quinto, Zoe Saldana and Karl Urban will also be returning to their respective characters Kirk, Spock, Uhura and Bones too. The film is scheduled to reach both UK and US cinemas on 22 July 2016.
For more entertainment news follow A-List on Twitter @Alistinsider