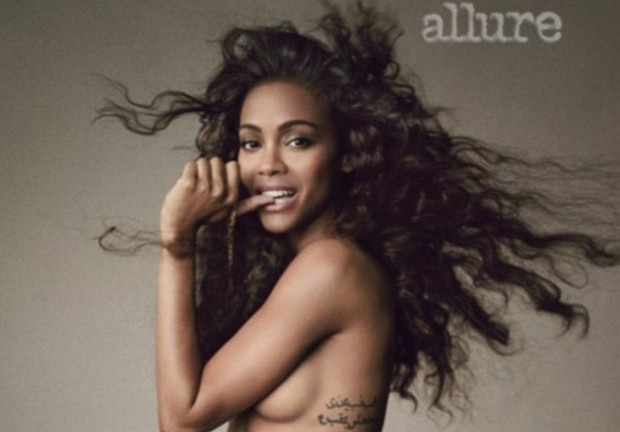 She has dated some of the hottest men on the planet, but it looks like Hollywood actress Zoe Saldana could soon be garnering some interest from female admirers.
Stripping off for the latest issue of Allure magazine, the Avatar star revealed that because she was so androgynous she may eventually settle down in a same-sex relationship.
"[I might] end up with a woman raising my children," she told the US beauty publication. "That's how androgynous I am".
The 34-year-old beauty ,who has had starring roles in Pirates Of The Caribbean, Avatar and Vantage Point, was previously in an eleven year relationship with actor and CEO of My Fashion Database Keith Britton.
She also had a famous on/off relationship with Silver Linings Playbook star Bradley Cooper.
But regardless what sex she ends up with, she said it would be what she really wants.
"If I have something good in front of me, it doesn't matter if it's a person or a pair of shoes," she says. "I'm not going to test something else. It's insecure and it's immature."
Saldana graces the cover of the magazine's sporting big curly locks, wearing a sexy tank top and a flashing a smile.
The inside spread sees her pose completely nude with nothing but a gold bangle in an array of raunchy shots.
One image sees her show off script tattoo as she went topless for the magazine, posing wearing just a pair of stonewashed jeans.
Her full brunette curls are blown behind her and she poses seductively with her thumb between her teeth.
The new issue of Allure magazine will be available on the stands from June 21.