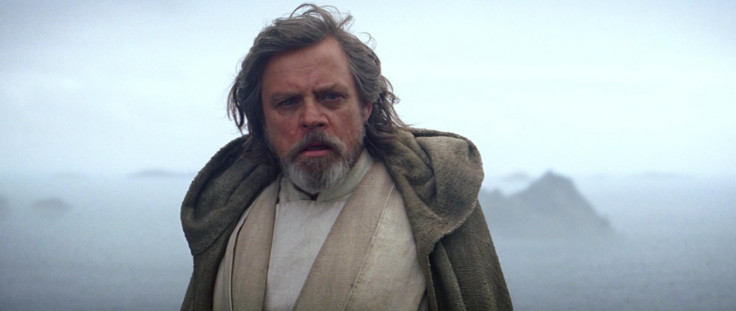 The filming for Star Wars 8, the untitled sequel to The Force Awakens (known to fans as Space Bear), has been completed but an alleged script leak claim has ruined fans' excitement over Episode VIII of the space-action thriller.
An unverified YouTube video claims to have obtained a portion of the script that reveals details about Luke Skywalker and his father Anakin's origin. The YouTube user – Star Wars Theory – has narrated a scene featuring the former Jedi Master, which allegedly belongs to the upcoming movie.
Warning: Major spoilers ahead from Star Wars Episode Space Bear
According to the video, Luke walked through a chamber into a narrow corridor where he senses the presence of something that he has not felt since he was in the Death Star – face-to-face with Emperor Palpatine. As the son of Darth Vader opens the door at the end of the corridor, he meets supreme leader Snoke.
It appears Rey has been kidnapped by the forces of the supreme leader and Luke has come to her rescue. Luke apparently confronts the Force-sensitive male humanoid alien, but instead of telling him the whereabouts of Rey, Snoke lures him with information regarding the origins of his family and claims that he had seen Anakin in his early days.
When questioned by the Jedi Master, Snoke ends the scene saying: "Of course. After all, what father doesn't see his own creation?"
Ardent fans of the highly popular franchise are not eager to buy the alleged leak and have rejected it as a fake story. Fans can be right, considering the high-level security measures taken by Disney during the filming and editing.
In an attempt to keep the movie a secret, Disney is yet to declare the title of the movie and Daisy Ridley has already hinted that fans need to continue with the tentative Space Bear name as there is still quite some time for the title revelation of Episode VIII.
The plot speculation regarding the eighth instalment of the space odyssey began soon after the premiere of Star Wars 7 with many theorising that Rey is the reincarnation of Darth Vader, a reason why she is so strong with the Force. Another theory suggested that Andy Serkis' character Snoke is none other than the immensely powerful Sith Lord Darth Plagueis.
However, none of these theories will see the light of day until Disney releases the movie title, synopsis or trailer of the highly anticipated movie. Star Wars Episode VIII features Mark Hamil, Daisy Ridley, John Boyega, Oscar Isaac, Carrie Fisher, Gwendoline Christie, Domhnall Gleeson, Andy Serkis and Lupita Nyong'o in lead roles and is scheduled to release on 15 December 2017.