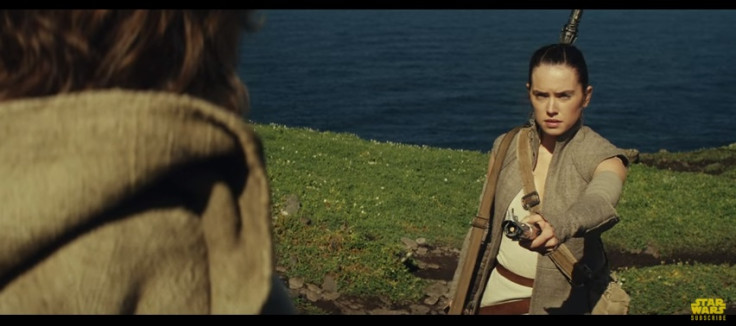 The Ireland filming schedule for Star Wars 8 has been wrapped up but fans are still with the Force as out of excitement, many fans managed to click some rare onset images of the highly-anticipated movie from Disney. The pictures led to multiple fan theories regarding how Kylo Ren will locate Luke Skywalker and Rey.
Warning: The following article contains major spoilers for Star Wars VIII
According to a report by Movie Pilot, the Knights of Ren will be able to trace Rey and find out Luke's secret hideout. And if there is a possible face off between Luke and Kylo, the website suspects it won't be the same as the final fight between Darth Vader and his son. Family bonding and emotions played a major role in Return Of The Jedi, where Anakin Skywalker overpowered Vader and sought redemption.
Making Star Wars posted several on-set thumbnail size images of the space odyssey spectacle and claimed the movie will have a major plot point featuring Luke in Ahch-To planet.
In the seventh instalment Star Wars: The Force Awakens, space scavenger Rey realised her power with the Force and defeated Kylo during her quest to find the former Jedi master. Finally, she located the planet that is mostly covered in water and rocky islands and handed him the lightsaber she found in Maz Kanata's secret chamber.
Apart from the rumours, there is no concrete information about the plot but one confirmed news is that the Rian Johnson-directed Episode 8 will begin right after the events of the seventh movie where Rey and Luke first met.
No one knows what happens next but it seems Making Star Wars has some idea about the events that might occur on the rocky island. Based on the leaked tiny pictures, the website speculates that Kylo will finally locate his former master and uncle.
A previously leaked scene description had claimed the Luke-Kylo showdown will have cliffhanger moments on Rey's fate. However, Disney has remained silent on the multiple rumours and apparent leaks. Hence, it is safe to predict that the plot of the movie may be different from the popular fan theories, rumours and leaks.
Star Wars: Episode VIII is scheduled to premiere on 15 December 2017.