Star Wars 8: Director Rian Johnson teases Maz Kanata's return in Episode VIII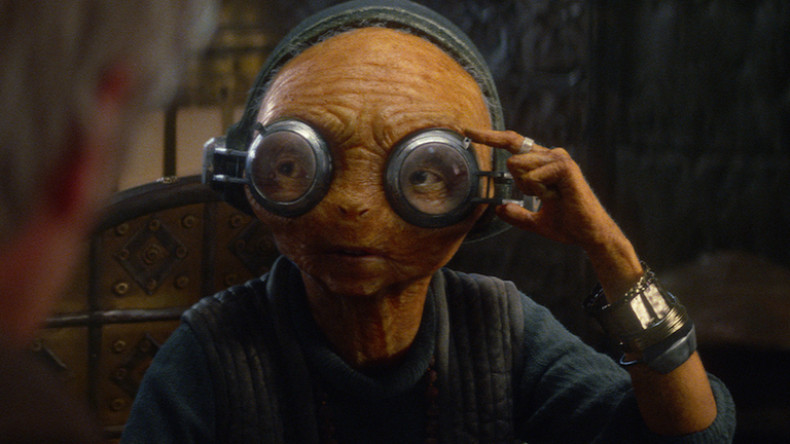 Looks like Maz Kanata will be making a comeback to the Star Wars movie franchise in the upcoming Episode VIII. Director Rian Johnson took to his personal Tumblr account recently to tease the popular character's involvement.
The photo appears to show a performance motion capture stage with Kanata on screen. We're assuming the figure on the mat is none other than Lupita Nyong'o, who also lent her voice to the creation of the ancient alien.
It's not clear if this image isn't actually a throwback to The Force Awakens, possibly taken from the home entertainment versions of the film that are being released soon. However, the idea of Kanata returning to the franchise isn't completely unexpected.
We know she wasn't killed when Takodana was attacked by the First Order, and given the mystery surrounding her character she's got plenty more story to tell. Hinted at in The Force Awakens, she's clearly a very powerful being who knows a lot more about Daisy Ridley's mysterious Rey than we actually saw revealed in the movie, so hopefully her being in the sequel will answer some questions.
Some have even suggested that Kanata will become a Yoda-like figure in the new Star Wars outings, acting as a mentor to Rey. Well, she did unite her with Luke Skywalker's lightsaber and help them find the elusive Jedi...
Regardless, not knowing to what extent Kanata will feature, fans are just glad she'll be seen again. We'll have to wait until 15 December 2017 to find out exactly how big a part she will play in the universe.
This isn't the first time Johnson has shared a behind-the-scenes look at the incredibly secretive (and understandably so) Episode VIII. Back on 10 March, he posted his first black-and-white image from the set, this time depicting cinematographer Steve Yedlin standing alongside what appears to be the inside of an aircraft of some kind. The filmmaker captioned the photo: "Hard to believe we're wrapping up week four already, it's just flying by."
For more entertainment news follow A-List on Twitter @Alistinsider