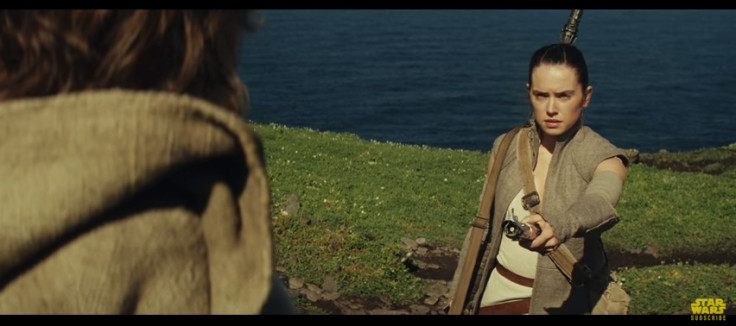 There is still a long road ahead for the premiere of Star Wars 8 but much like its prequel The Force Awakens, the movie is suffering leak issues. After the controversial plot leak, the eighth instalment of the space action adventure series is in news again for a scene description leak featuring Luke Skywalker and Kylo Ren.
In Episode VII, Rey realised that she was also strong with the Force and was able to defeat the leader of the First Order during their final face-off. Later, she located Luke, who was in a self-imposed exile on the lonely island of Ahch-To after his Jedi trainee Ben Solo turned towards the Dark Side and became the dreaded dark warrior Kylo.
Speculations are high that Adam Driver's character will recollect himself after his defeat at the hands of Rey and will restart his hunt for the former Jedi master. Fans are eager to watch a battle between the master and his former student in the upcoming movie, tentatively titled as Space Bear by Disney.
Warning: Spoilers ahead, avoid reading while you can
A leaked report by Making Star Wars revealed an important scene that narrates the Knights of Ren and their confrontation with Luke and Rey on a rainy night in the Ahch-To island. According to the fan website, the former Jedi and the space scavenger-turned-Force bearer will return to the island only to find Kylo's army waiting for them.
Here is an excerpt of the leak from Making Star Wars:
The son of Darth Vader decides to take on the Knights with his lightsaber and Force while Kylo and Rey battle it out through the still cliffs. The alleged leak reported by the website also claims the commander of the First Order wants to settle scores with the space scavenger and attempts to kill her.
The movie franchise has suffered various plot and picture leaks in the past but most of them turned out to be false and hence it is difficult to predict whether the scene description leak is authentic or not. Disney is taking extra precautions to prevent any news to slither its way to fans and media. However, the scene does sound exciting and will prompt fans to hold their breath till the next Star Wars movie premieres in theaters.
Directed by Rian Johnson, Star Wars: Episode VIII is scheduled to premiere on 15 December 2017.