Star Wars 8: On-set images hint at Jedi temple location; John Boyega denies Finn and Rey romance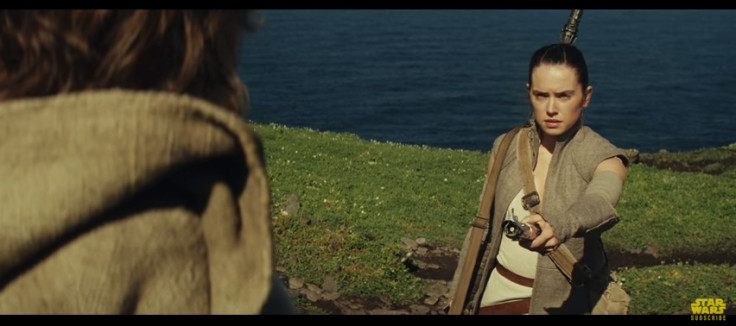 After the record-breaking success of Star Wars The Force Awakens, Disney pumped up the shooting schedule for Star Wars 8, directed by Rian Johnson. The filming of the eighth instalment is in full swing in Ireland as actors Mark Hamill, Daisy Ridley, and Adam Driver have arrived in the country to film some key scenes.
As of now, nothing is known about the plot of the movie, but the leak of some in-set images from Malin Head, Ireland, have sparked speculations that the crew is currently in Ireland. Time reported that Disney is taking extra precautions to avoid leaks from the sets.
A no-fly zone rule has been imposed on the shooting territory and Wi-Fi blockers have been activated in order to prevent drones from flying above the filming zone. But none of these have stopped an image leak from the set of an under-construction structure, which Making Star Wars speculates is the Jedi Temple-like structure.
Rumour has it that after meeting Luke Skywalker and handing him Darth Vader's lightsaber, Rey will seek the former Jedi Master's guidance. A previous plot leak claims that Luke, who has spent years of self-exile in Ach-To after his nephew and apprentice, Ben Solo, turned towards the dark side, will seek the guidance of the ancient Jedi Temple.
Disney, on the other side, has not responded to the script leak and rumours and continues to keep its security rule strict for both the cast and the crew, thereby increasing fans' excitement about the upcoming space adventure odyssey.
Meanwhile, John Boyega (Finn), told Variety that the upcoming movie will be darker and bigger than TFA. "It's very easy. Rian Johnson is great. It's a different take, darker, bigger. Someone will say: "How do you get bigger than 'Force Awakens?'" But it's crazy," he told the news outlet.
The American actor also denied rumours about Rey and Finn's romance in the upcoming movie. He said: "Yes, Finn and Rey – they're just friends. Finn is a stormtrooper, so he doesn't really know what's going on. So the romance thing is something that's going to be interesting in the next installment. It's not going to go the way you think it's going to go."
Star Wars Episode VIII will premiere on 15 December 2017.
© Copyright IBTimes 2023. All rights reserved.