While director Rian Johnson is busy filming Star Wars 8, rumours and leaks regarding the plot and the fate of the lead characters keep surfacing on the internet. After a great deal of discussion about Luke Skywalker's future equation with Rey, and what Kylo Ren's next move will be, fans are now shifting their focus to other important characters as a new rumour about General Leia Organa has surfaced on the internet.
In The Force Awakens, fans learnt that Kylo (Ben Solo) is the son of Leia and Han Solo who was lured towards the Dark Side by Supreme Leader Snoke and became a passionate follower of the fallen Sith Lord Darth Vader.
Warning: Major spoilers ahead for Star Wars Episode VIII
In Episode VII, Leia was shown as the general of the Resistance army who was trying to save her son from the Dark Force but never used her Force power.
However, the latest fan speculation on the IMDB forum, suggests she will use her Force sensitivity. It also refutes the much circulated rumour that Rey is the daughter of Luke.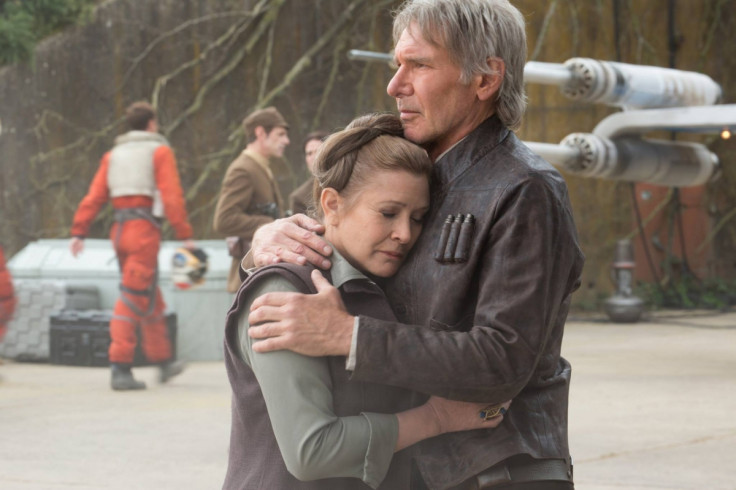 She accelerated her attack plans after she reunited with her husband Han and together they hatched a strategy to save Rey from the clutches of the First Order.
But nothing went according to plan and Ren killed Han during their one-on-one encounter, leaving Leia devastated. Episode VIII (code named Space Bear) will focus on how she manages to deal with the fact that her own son murdered her husband.
If fan theories are to be believed, then Leia will try to use her Force to deal with her son who went rouge. However, Both Disney and director Johnson are yet to confirm anything about the plot of the highly anticipated sequel.
The cast and crew earlier wrapped up filming in Ireland and the director recently shared an on-set image of a cloak on his Tumbler page and captioned it: "in the home stretch". The attire appears very similar to the cloak that Mark Hamill wore in the final scene of The Force Awakens.
Daisy Ridley, John Boyega, Oscar Isaac, Carrie Fisher, Gwendoline Christie, Domhnall Gleeson, Andy Serkis and Lupita Nyong'o will return to reprise their respective roles in Star Wars Episode VIII, which is scheduled to release on 15 December 2017.