Star Wars: Episode VIII is currently shooting in Croatia, and some images of the set locations have already made an appearance online thanks to some particularly eager fans in the city of Dubrovnik. The instalment will have Rian Johnson directing this time around, in place of The Force Awakens director JJ Abrams, and will reunite most of the cast from Episode VII including Daisy Ridley, John Boyega, Oscar Isaac, Carrie Fisher and Mark Hamill.
Like before, the bulk of the shoot is set to take place in the UK, but evidently there's also some location work being done. The film has been in Croatia for a few days, and despite all of the movie's secrecy, sneak peaks have already surfaced. So keen are the fans in fact, that YouTube user Izuzetno.com has put together this video of pictures from the Star Wars: Episode VIII shoot.
While there's nothing spoiler-heavy about seeing the whereabouts of the film's sets given that there are no indicators as to what will happen plot-wise, the types of locations seen here may well come as a welcome surprise for those who thought The Force Awakens was too reminiscent of the original 1977 film. The sandy dunes of Jakku, which looked almost identical to Tatooine in the very first instalment, or the snowy plains of the Starkiller Base AKA Hoth, are nowhere to be seen and instead, we get a much more sophisticated set-up with buildings, archways and staircases galore. We can't help but think it looks slightly like Naboo though...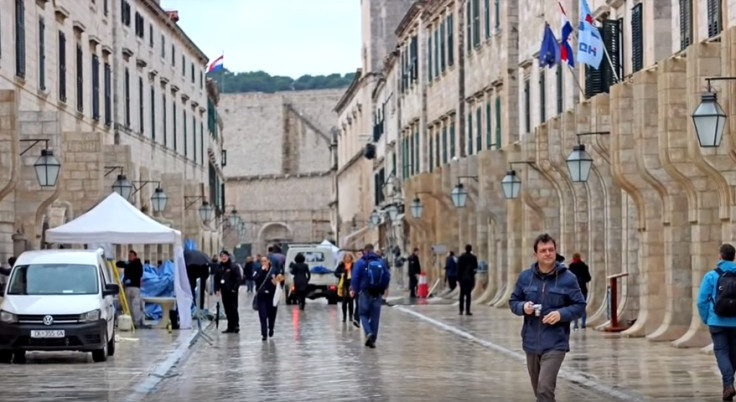 While this recent video isn't officially affiliated with either studio, Disney and Lucasfilm released their own behind-the-scenes sneak peak earlier in February, with the purpose of announcing that production on the eagerly-anticipated sequel had begun. A long with the video, the studios also announced that Sicario star Benicio del Toro and Wild actress Laura Dern had joined the cast.
As exciting as it is for fans to see Star Wars: Episode VIII come together, fans will undoubtedly have to wait a long time before Lucasfilm start providing official looks. Their top priority at the moment is December's Rogue One: A Star Wars Story, with marketing possibly beginning before the summer movie season kicks off. In the meantime, brief glimpses like the ones from Croatia will have to do. Star Wars: Episode VIII is scheduled to be released in both UK and US cinemas on 15 December 2017.
For more entertainment news follow A-List on Twitter @Alistinsider