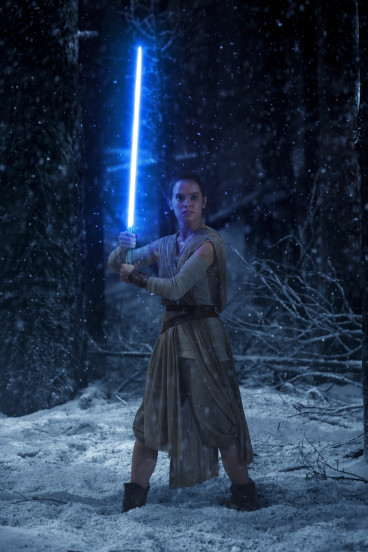 There's no denying that JJ Abrams' Star Wars: The Force Awakens conjured up more questions than it answered when it was released in December 2015. Cinemagoers were ok with this, though, given the fact that the instalment was knowingly going to be the first of many – Lucasfilm and Disney aren't going to reveal every plot twist right off the bat, now, are they?
Daisy Ridley's character Rey's backstory is arguably the most intriguing, seeing as we met her living alone on Jakku, with no memory of who her parents are or where she came from and an obvious connection to Luke Skywalker's lightsaber. Now, one eagle-eyed viewer has analysed the evidence available and formed a theory distancing her from the side of the light and, instead, connecting her to villain Emperor Palpatine. Even going so far as suggesting the heroine could be his granddaughter.
YouTube user Vincent Vendetta took to the video-sharing platform to draw attention to the similarities in Rey's fighting technigue when she's battling Kylo Ren (Adam Driver) in the forest on Starkiller Base. In the sequence, Rey thrusts her lightsaber forwards, just as Palpatine did when he was fighting Mace Windu and the other three Jedi in Revenge of the Sith.
He also adds that Ren seems to know more about Rey than he should do during the duel. Lastly, he points out that in the canon The Force Awakens novel, a mysterious voice in Rey's head tells her to kill Ren, which could well be Palpatine – who had some serious mind control powers – calling to her.
While there do seem to be some tenuous links between Rey and the Emperor, having the movie's current hero discover that they are related to a Sith Lord would obviously be treading very familiar ground after Darth Vader's epic confession to Luke in The Empire Strikes Back. Considering that the one criticism fans had about The Force Awakens was that it seemed to parallel A New Hope a little too much, chances are they wouldn't be too keen to base more story lines on past movies.
Also, while Palpatine was a notable character in the previous two Star Wars trilogies, he was tossed into a reactor shaft by Darth Vader in Return of the Jedi, and since the second Death Star was destroyed soon after, it's always been assumed that he is dead. Throughout the whole story, there was also no indication that he was romantically involved with anyone, which makes the idea that Rey could be a relative of his even more unlikely.
For more entertainment news follow A-List on Twitter @Alistinsider