Star Wars Rebels season 2 is slowly approaching its finale, and the title and airdate for its final five episodes have officially been revealed by Disney XD. The last episode will be two hours long and one of the heroes will meet their end.
The final episodes will see the return of Darth Vader and Ahsoka. Ezra will be tempted by the dark side of the force. Darth Maul, the Old Master, whom George Lucas described as "a figure from one of his darkest nightmares", will try to influence Ezra. The highpoint is when Ahsoka and Darth Vader take on each other and engage in a fierce lightsaber battle.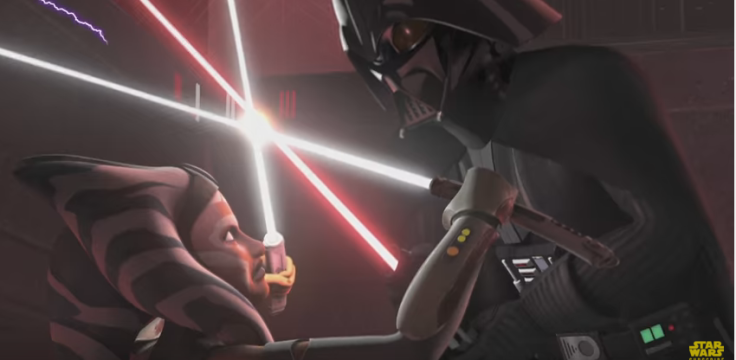 Here are the episode titles and some plot details:
1. Episode 18 is titled Shroud Of Darkness, which will air on 2 March at 9pm PT/ET on Disney XD. In the episode, the rebels return to the Jedi Temple on Lothal in order to find guidance on how the Inquisitors continue to track them. They once again meet Jedi Master Yoda and encounter a number of Force visions about the future, the past, and old friends.
2. Episode 19 is titled, The Forgotten Droid, which will air on 16 March. This episode may focus on R2-D2, who served Anakin Skywalker during the waning years of the Galactic Republic. The droid is often accompanied by the protocol droid C-3PO in many adventures throughout the Clone Wars.
3. Episode 20 is titled, The Mystery Of Chopper Base, which will air on 23 March. This episode will focus on Chopper, who will run into some kind of trouble at the Empire base.
4. The two-hour finale episode is titled, Twilight Of The Apprentice: Part I, and Twilight Of The Apprentice: Part II. The episode will air on 30 March. Twilight hints at an ending, which could mean one of the Rebels will lose his life in the final battle against the Empire.
It is possible that Darth Vader will finally sever the final tether to his former life as Anakin Skywalker, by killing his former padawan, Ahsoka. Either way, expect a lot of tearful moments and lightsaber duels in the two-hour finale event.