Star Wars Rebels season 2 return date: Kanan and Ezra meet Princess Leia in episode 10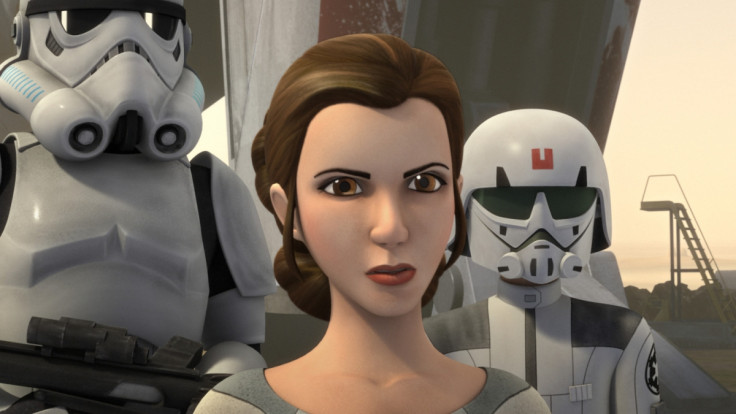 Star Wars Rebels season 2 will introduce a young Princess Leia in the midseason premiere chapter. Episode 10 titled A Princess on Lothal airs this Wednesday 20 January at 9 pm ET/PT on Disney XD.
The official synopsis reads as follows:
During the early rebellion against the rule of the Galactic Empire, Princess Leia Organa of Alderaan is sent to the planet Lothal on a mission to provide ships for the rebel fleet. When the Empire initiates a lockdown, her plan is thrown into jeopardy.
As the show is set roughly three years before the events of A New Hope, Leia is introduced as a young leader on her way to becoming the strong, more resolute character portrayed in the original trilogy.
Executive producer Dave Filoni dished on the challenges of depicting Leia in Star Wars Rebels. Filoni told TV Insider: "We thought we had an opportunity to show her learning to be a leader, experimenting with the personality that becomes the stronger more resolute character you see in Star Wars: A New Hope."
"One of the complex challenges of depicting Leia in Rebels is that we have to remind the audience that at this point she is part of the Empire. She doesn't believe in the Empire, but she is acting the part, almost a double agent," he explained.
A new promo shows Kanan and Ezra wearing Stormtrooper armors to welcome a new ally: Princess Leia. The video shows Ezra asking Leia: "Where is your commander?" However, the princess hits back, saying: "Not much of a welcoming committee, trooper?
Kanan then introduces them to her and says they are not a threat, to which Leia replies: "I know who you are. And unless you want the deck officer here to know too, I suggest you put your helmets back on and keep your mouths shut."
Veteran actress Carrie Fisher who played Leia in the Star Wars universe will not voice the role. The young Leia in Disney's animated series will be played by Julie Dolan, who also voices the character in Star Wars: Uprising mobile game.
© Copyright IBTimes 2023. All rights reserved.