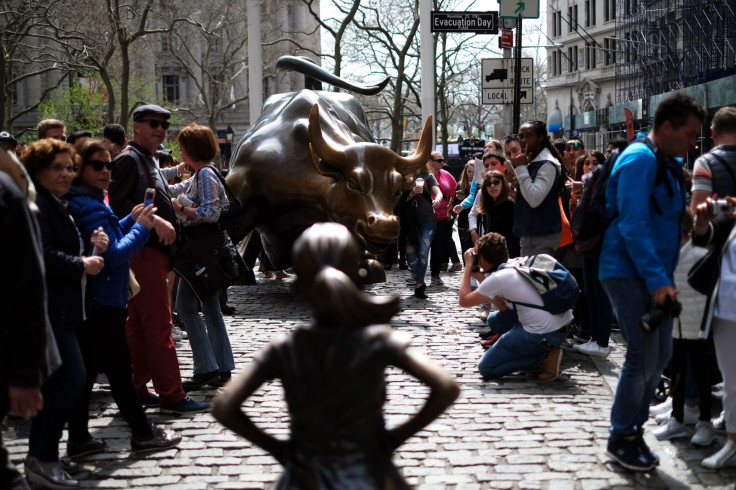 An artist from New York City, Alex Gardega, added a statue of a peeing dog to mock the Fearless Girl statue that was installed in front of the iconic Charging Bull in Manhattan.
Retaliating against the little girl's statue, which was commissioned to highlight gender inequality, Gardega installed his creation dubbed Pissing Pug. The dog takes aim at Fearless Girl, urinating on her left leg.
Though the dog was removed within hours of its installation on Monday (29 May), it sparked a heated online debate.
The city artist had earlier told the New York Post that the girl's statue was a "corporate nonsense" and it was put opposite Italian artist Arturo Di Modica's renowned Charging Bull as a publicity stunt by a Boston-based financial firm.
"It has nothing to do with feminism, and it is disrespect to the artist that made the bull. That bull had integrity," he has said.
"I decided to build this dog and make it crappy to downgrade the statue, exactly how the girl is a downgrade on the bull," Gardega added.
But the city artist's idea has not gone well with everyone. Some felt that Gardega's work was offensive and sent anti-feminist message. One woman said, "That's an a–hole move. You call this art?"
Others supported Gardega and said Fearless Girl was not art, but a marketing ploy.
Di Modica, who is also not a fan of the little girl and is suing State Street Global Advisors, the mutual fund company that placed the Fearless Girl statue opposite his work. He has, however, restrained himself from the current controversy.
He has said that his sculpture, which was installed in 1989, symbolises "freedom, world peace, strength, power and love". But, because of the Fearless Girl statue placed in front of the Bull, his artwork's meaning and context have changed.
"The Charging Bull no longer carries a positive, optimistic message. Rather, it has been transformed into a negative force and a threat," he had said in April.
Fearless Girl was installed opposite Di Modica's bull in March 2016 for International Women's Day on a temporary permit; however, this year New York City's Mayor Bill de Blasio extended the girl's statue permit, amid rising public clamour for it to be made permanent.
He called it a symbol of "standing up to fear, standing up to power" and doing what's right.