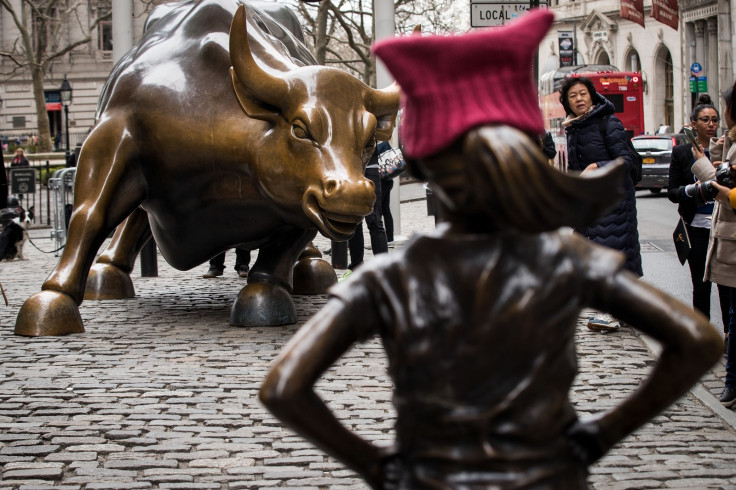 A man, believed to be a Wall Street banker, faced an angry backlash this week after he was photographed appearing to "hump" a statue of a young girl installed in the famous banking district.
The incident took place the day after International Women's Day on Wednesday, not long after the statue's installation.
The picture was shared on Facebook by an eyewitness who said the unidentified man stood behind the new installation and began simulating sexual intercourse with the statue. Alexis Kaloyanides, who posted the picture, described the man as the reason the world needed feminism.
In the post, which she encouraged others to share, she wrote: "Almost as if out of central casting, some Wall Street finance broseph appeared and started humping the statue while his gross date rape-y friends laughed and cheered him on."
She added: "He pretended to have sex with the image of a little girl. Douchebags like this are why we need feminism."
The bronze statue of a young girl standing defiantly with her hands on her hips as she faces the famous Charging Bull statue – a symbol of the aggression of the famed Manhattan district – was installed on the eve of International Women's Day.
The statue, by artist Kristen Visbal, was brought to the Bowling Green Plaza by investment firm State Street Global (SSG), to highlight efforts to get more women on corporate boards.
In a statement on its website, SSG said it had received an "overwhelming reaction" to the girl. It added: "We are encouraged by the positive response, as our goal was to raise awareness and drive a conversation around the need to improve gender diversity in corporate leadership roles."
Making the case for a greater drive towards boardroom equality, the company wrote: "We believe that corporate board diversity enhances board quality and effectiveness as it brings together directors with different skills, backgrounds and expertise.
"Certain research shows that companies with greater levels of gender diversity have had stronger financial performance as well as fewer governance-related issues such as bribery, corruption, shareholder battles and fraud."
Though the photographed banker may embody the very attitudes The Fearless Girl stands against, the incident may have the opposite impact on the statue's fate.
Though the statue is only intended to stand in the plaza on a temporary basis for a few weeks, a petition on Change.org for the statue to become a permanent fixture had received almost 15,000 signatures on Sunday afternoon.