Summertime, and the living isn't easy in downtown Beirut. A dispute over refuse collection has led to heaps of rubbish piling up at the hottest time of the year. The sacks of garbage, combined with power cuts, form an unhappy symbol of administrative impotence. The Lebanese government, an uneasy coalition of former civil war opponents, carries on without an elected president, while the parliament sits with the next election seemingly permanently delayed.
Lebanon's war may be behind it but over a million refugees from neighbouring Syria are now living within its borders, adding around 25% to the existing population of four million. This is a country in urgent need of renewal of its infrastructure as well as its governance.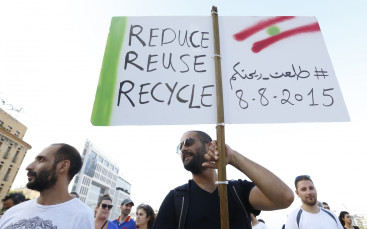 And yet. What I saw on a recent visit – before the heat and the rubbish piles began to rise – was something quite different and far more encouraging: the growth of a new generation of tech entrepreneurs who, in the face of practical difficulties, are trying to build a new Lebanese story.
Take, for example, the school children in Dhour el Choueir, a town about an hour's drive out of Beirut. Equipped with their Raspberry Pi computers, they had written code to programme a new traffic light system at a roundabout in the centre of town that had been the scene of many an accident. Three days of field study, watching the traffic, allowed the young programmers to devise the sequencing that might calm down drivers in this beautiful mountain setting.
Grown-ups are at it too. Consider the remarkable success of Shahiya.com, a pan-Arabic website (also available with English text) for foodies everywhere ("shahiya" means appetite in Arabic). Its recipes and culinary tips have proved hugely popular with three million users a month (a million of whom are in Saudi Arabia, and 90% of whom are women). Launched in 2010, Shahiya was bought in November 2014 by the Japanese Cookpad business for $13.5m.
At the heart of Beirut lies the new "Beirut Digital District" (BDD), a hub of activity inspired by the spirit of Silicon Valley but with more than a hint of London's tech city (Silicon Roundabout) to it. This is not a coincidence: the UK Trade and Investment office (UKTI) is a partner to the Lebanese, forming a UK-Lebanon tech hub alliance, with the support and guidance of PA Consulting.
Circular 331
In a country where the reputation of politicians is low, BDD has been made possible by the initiative of one Lebanese institution that really works – the central bank (Banque du Liban). Its intervention in August 2013 – "Circular 331" – made possible the injection of (potentially) hundreds of millions of dollars into tech and other innovative "knowledge economy" start-ups.
Under Circular 331, the central bank guarantees 75% of the funds that other banks or venture capitalists invest in new businesses. After initial applications, the UK-Lebanon tech hub recently approved 45 companies to go through to the next phase of mentoring and support. Many of these enterprises could ultimately be recipients of funding under Circular 331. This autumn, those 45 will be reduced to 15, who will receive further help from the tech hub (in London as well as in Beirut) over the following 10 months, prior to a full-scale international launch of their enterprises. The Lebanese tech revolution is truly under way.
Indeed, even the problem of the mounting rubbish piles has provoked local entrepreneurs into trying to find a solution. The tech hub has formed a partnership with the American University of Beirut, developing a mobile "platform" that allows users to request a pick up of their recyclable waste from home for free. The aim is to show how sorting rubbish at home could help reduce the mountains of rubbish. A future commercial version of this platform could allow van drivers to sign up to make money out of recycling.
Dealing with limited resources
Doing business in Lebanon is hard, sometimes very hard. Broadband internet is expensive and intermittent, there are power cuts, and water supplies are under pressure as the population grows. But as several young entrepreneurs told me, the hard conditions can spur people on. They are not waiting for the politicians to sort anything out. This is a country which, after all, kept functioning during 15 years of civil war.
People are being resourceful in a world of limited resources. "We wouldn't know how to cope if everything worked," joked one. Some young Lebanese, part of the vast international diaspora, are returning home. (And 20% of Lebanese GDP takes the form of remittances from around the world.)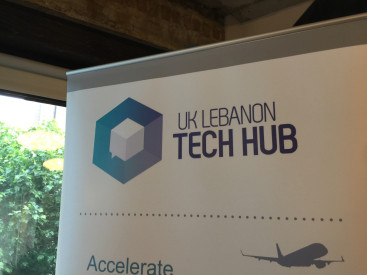 But the local politics don't get any simpler. Syria, Iran and Saudi Arabia all loom large, as does Israel to the south. And yet Beirut is once again one of the smartest cities in the Mediterranean, with luxury properties rising high. The practicalities remain tricky.
"If you want to hire a janitor, you have to get the Iranians and the Saudis to agree," they say. Israel is referred to in conversation as Disneyland in case anyone should overhear a positive remark being made about the noisy and troublesome neighbour.
The outgoing British ambassador to Lebanon, Tom Fletcher (a key mover in the tech hub), wrote powerfully in a recent blog about what the country has meant to him. It was a salute of praise as well as encouragement for further action.
"If the internet doesn't work, build a new internet," he wrote. "If the power supply doesn't work, build a new power supply. If the politics don't work, build a new politics. If the economy is mired in corruption and garbage piles up, build a new economy. If Lebanon doesn't work, build a new Lebanon. It is time to thrive, not just survive."
This is what some remarkable young people in Lebanon, in difficult circumstances, are trying to do. And like the cedar trees reaching up to the light out of the rocks on Mount Lebanon, they are surviving and quite possibly thriving too.
---
Stefan Stern is a business, management and politics writer. He writes for The Guardian and The Financial Times and is a visiting professor at Cass Business School.
---