The new trailer for Steve Jobs offers up a much darker representation of the iconic Apple boss than we have seen before, seeming to focus much more on Jobs as a leader and the difficult relationships he shared with those around him, rather than the technological innovations he is known for.
As described by its official website, the film is "set backstage at three iconic product launches and ends in 1998 with the unveiling of the iMac".
It looks to be an intimate piece, with an unconventional set-up of three real-time 30 minute segments, each depicting the behind-the-scenes goings on at three major Apple events. It has an atmosphere similar to that of 2011's The Social Network – not a bad thing.
Unlike the first teaser trailer, where viewers simply had a glimpse of Fassbender as turtle-necked, bespectacled Jobs preparing for a talk, we can now see some of the supporting cast and they look to be an impressive bunch.
Kate Winslet portrays Joanna Hoffman, Macintosh's marketing head, who tries to Juggle control of Jobs' professional and persona lives – encouraging him to reconcile with the daughter he denied for years, as well as her mother.
The Newsroom actor Jeff Daniels also features, playing Apple CEO John Scully, a man Jobs initially brought on board to join the company, but soon ended up rivalling as the two got caught in a complicated power-play.
Finally, Boardwalk Empire's Michael Stuhlbarg plays Andy Herzfeld, Jobs' product guy. He delivers one of the most cutting one-liners to his employer in this first official look.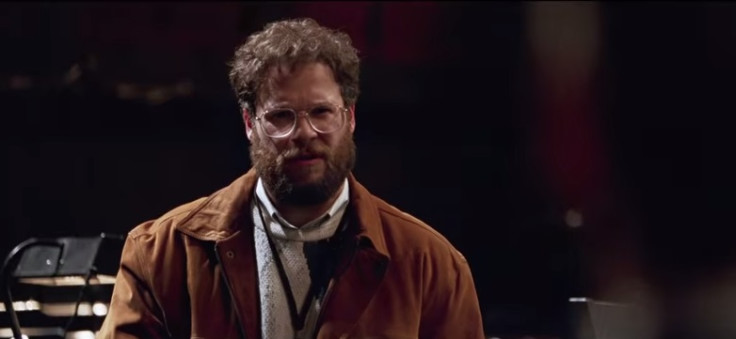 However, arguably the most interesting character in the official trailer, secondary to Fassbender's is Seth Rogen's – playing Apple co-founder Steve Wozniak, who famously had a strained relationship with Jobs since their first amateur business encounter way back in 1973.
"You're not a designer. You can't put a hammer to a nail. I built the circuit board, the graphical interface was stolen! So how come, ten times in a day, I read 'Steve Jobs is a genius?' What do you do?" Wozniak asks Jobs.
Fassbender calmly and confidently answers back, demonstrating his enormous self-belief: "Musicians play their instruments, I play the orchestra."
Steve Jobs marks the third film made about the visionary since his death in 2011. The first, iSteve, went relatively under the radar given its lack of promotion. Ashton Kutcher's depiction of the the late pioneer failed to impress critics – despite looking the spitting image of the man he was attempting to present.
This movie, however, is being controlled by Oscar-winning duo Danny Boyle and Aaron Sorkin, so it has a promising outlook. If the new trailer does the picture justice, it is going to be a fervently dramatic character study, well worth a watch. Whether it is completely accurately to the man they are portraying, only those close to him will know – but it certainly looks appealing when it comes to pure entertainment value.
Steve Jobs will open in UK cinemas on 13 November 2015.