Liverpool and England captain Steven Gerrard is set to miss the international friendly double-header against Republic of Ireland and Brazil after the Reds confirmed the 32 year old will require shoulder surgery this summer.
Gerrard has played every minute of Liverpool's Premier League campaign with the Merseysiders currently seventh in the Premier League with four games remaining.
But his pre-season preparation, coupled with his international commitments, will be distracted by a second bout of surgery in three years.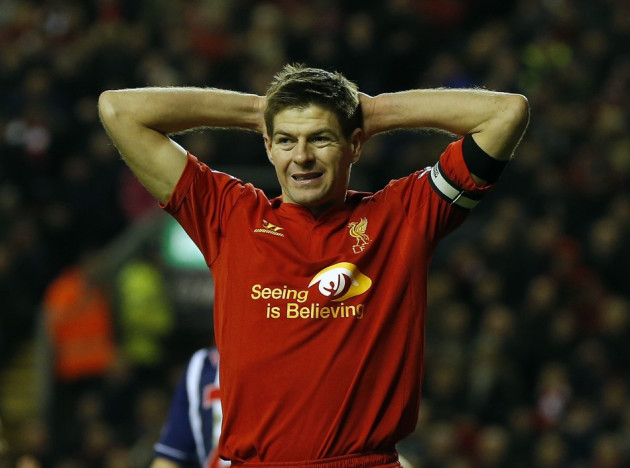 "It's looking more and more likely that he might require surgery," said first team coach Mike Marsh.
"He has been playing with a shoulder injury for quite a while now. We'll try to find the right time for him to get it fixed properly.
"It's not ideal timing, it's going to take quite a while for him to heal. It's a funny injury - it's pretty similar to Joe Allen.
"If it needs repairing, it needs repairing and when he's back fit, he's back fit. There's not much we can do about it."
The surgery could also throw into doubt Gerrard's participation in his own testimonial on 3 August, which celebrates his 15-year career at Anfield.
"I am delighted to be honoured by Liverpool FC with a testimonial match and particularly thrilled that Olympiakos have accepted my invitation to play the fixture," Gerrard said earlier this week.
"Last time we met proved to be such a memorable game both for me personally and Liverpool Football Club.
"I am looking forward to what I know will be a fantastic game and a wonderful occasion."
During the 2010/12 season Gerrard underwent groin surgery, while last season saw his campaign curtailed by a foot problem which put his career in jeopardy.
Despite the surgery having been delayed until the summer, Gerrard's ambitions of starting the season appear unlikely, with the England skipper likely to have played no pre-season matches as he continues his recovery.
His expected absence is compounded by the 10-match ban to Luis Suarez, who will not only miss the remainder of the current season, but will also be absent for the first six games of the new campaign.