Calm, analytical and well-spoken, Steven Woolfe used his legal training to become one of the best known faces of Ukip. The former City of London barrister was favourite to succeed Nigel Farage as the party's next leader earlier this year.
But after a series of dramatic twists and turns, Ukip's governing body blocked him from running. Woolfe had submitted his application papers 17 minutes late, a surprise gaffe for a man with a "safe pair of hands" reputation.
The MEP hails from Manchester and has represented the North West region in the European Parliament since 2014. A mixed-race politician from the North, Woolfe integrated his background into his leadership campaign.
He told IBTimes UK that he wanted to roll Ukip's tanks onto Labour's lawn in the wake of the EU referendum.
"The one thing I can say to the people of the North and the Midlands who voted Brexit and who are tired of the Labour Party leaving them behind, Ukip is now the party for you and your new home," he said.
Not forgetting his roots, Woolfe was big on promoting social mobility. "[Ukip] did it for immigration, we did it for the referendum and now we're going to do it for social mobility too," he declared.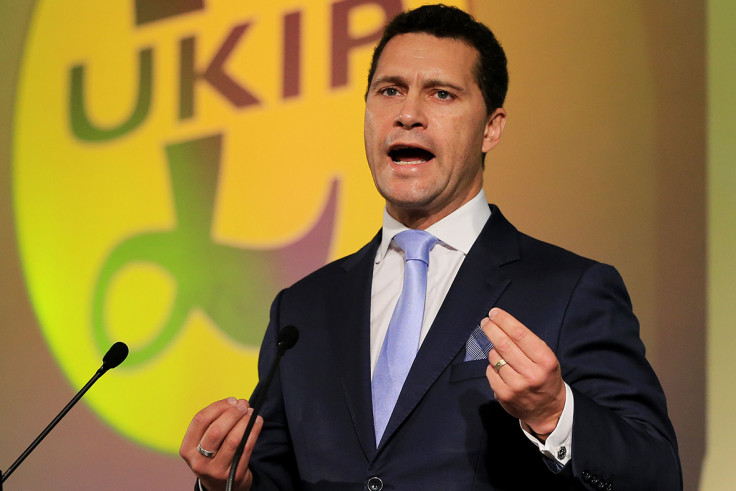 With Diane James' shock resignation as Ukip leader just 18 days into the job, Woolfe was again favourite to take the top job.
An ally of Farage and party donor Arron Banks, he was the continuity candidate, even after news of his defection talks with senior Conservatives broke. Like Farage, a Westminster seat has eluded him.
Woolfe came third with 13% of the vote behind Conservative candidate Daniel Hamilton (24%) and Labour MP Ann Coffey (49%), when he contested her Stockport seat at the general election last May. Today is Woolfe's 49th birthday.
Ukip leadership timeline
November 5, 2010 - Nigel Farage re-elected leader with 60.5% of the vote.
May 22, 2014 - Party gains 27.49% of the vote at European Parliament elections.
August 28 ,2014 - Douglas Carswell, with a majority of more than 12,000, forces a by-election by defecting from the Tories to Ukip and quitting parliament.
September 27, 2014 - Rochester and Strood MP Mark Reckless forces a by-election by announcing his defection to Ukip.
October 10, 2014 - Carswell wins Clacton by-election with a 12,000 majority.
November 20 2014 - Voters return Reckless with a majority of 2,920.
June 23, 2016 - UK votes to leave the EU by a majority of 52%, prompting Mr Farage to stand down as leader again.
September 16, 2016 - Deputy chairman Diane James elected to replace Farage after securing 8,451 votes in a landslide victory.
October 4, 2016 - James quits as Ukip leader after just 18 days in charge.