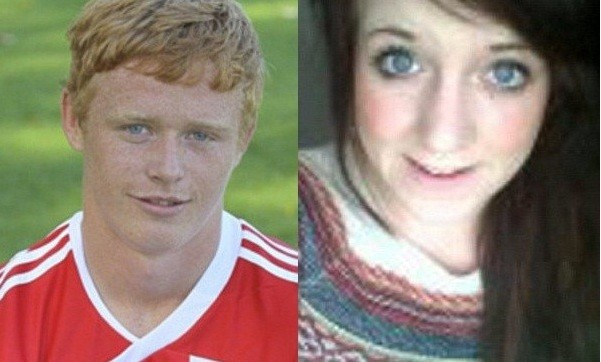 Stoke City Academy player Andrew hall has pleaded guilty to the murder of his 15-year-old girlfriend Megan-Leigh Peat.
Hall, 18, has admitted to stabbing the teenager at a house belonging to a mutual friend in Ampthill, Bedfordshire in the early hours of 9 June.
Ms Peat died at a house in Ailesbury Road after suffering multiple wounds to the head and body. Hall had stabbed the 15-year-old a total of 60 times.
Judge Richard Foster gave Hall a life sentence with a minimum term of 10 years at Luton Crown Court.
Paramedics were called to the scene at 1.30am but were unable to save her life.
Judge Foster told Hall: "Megan Peat will never experience the thrill and success of exam results, going on to higher education, or perhaps being a bridesmaid at a best friend's wedding or an 18th birthday party.
"Her life ended in your hands at 15 years old.
"Only you know why you did what you did that night and what the catalyst was for such a ferocious attack.
"It is clear you were jealous of her innocent friendships with others."
Hall spent several days in hospital being treated for hand and arm wounds following the attack.
After Hall's guilty plea, Ms Peats family released a statement saying they satisfied the 18-year-old has admitted the charge,
The family said: "Megan was a healthy, vibrant, loving and caring person who was very much loved by all her family and all her many friends. She had her whole life ahead of her.
"Before her untimely death we were an ordinary family leading an ordinary life.
"Since that fateful day our world has changed beyond recognition.
"The pain of losing our beautiful daughter and the tragic and awful way she died will stay with us for the rest of our lives."
Ms Peat was a pupil at Harlington Upper School in Dunstable.
Tributes were paid to the 15-year-old in the days following her death.
In a message left with flowers at the scene, her father, David, said: "Megan Moosay, miss you more than words can say. You will always be in my thoughts and forever in my heart. Love you forever, Dad."
On a Facebook tribute page, Hannah Louise Watson wrote: "Still can't believe it. You made everyone proud when you never gave up and held your head high through the hardest of times and you always helped supporting everyone around you.
"So now is our time to thank everything you've done to help others and thank you for the best memories Megan."
Hall played for Stoke City's Under-18 side last season, and scored the goal that sent them to the fourth round of the FA Youth Cup.
The court heard how he was on the brink of signing a professional contract at the club.