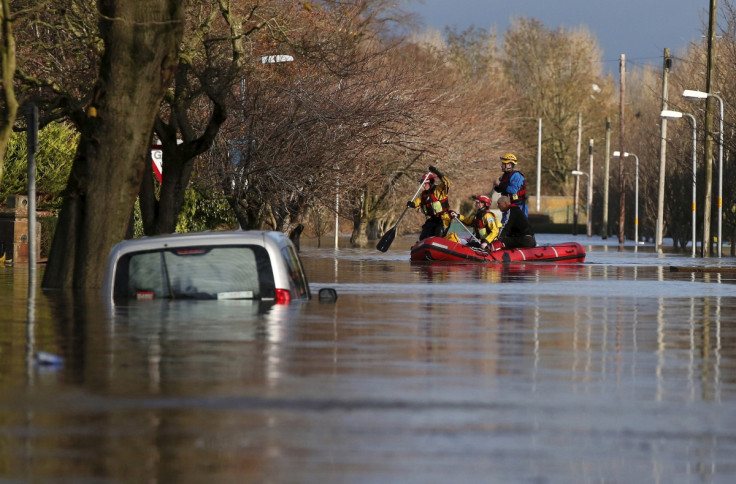 Storm Desmond continued to batter the UK as a number of fatalities were reported as hundreds of Britons face the prospect of celebrating Christmas away from their homes or trying to repair and dry out their flooded residences. More than 43,000 homes were left without power as further severe flood warnings have been put in place.
Sixteen severe flood warnings, which signal a danger to life, have been issued across the North West. The Met Office has also issued severe weather warning for rain later this week.
So far, there have been three deaths reported as a result of Desmond. Police have said that a body found in Cumbria is believed to be that of an elderly man who was reported missing following reports that he had fallen into a river. The body was found in a stream running into the River Kent in the Staveley area of Kendal.
In Ireland, the body of pensioner Ivan Vaughan, who was swept away in flood waters, was found in Co Monaghan. And in Wexford, a teenager is in serious condition after she was among four Dublin Scouts who were swept into the sea.
In North London, a 90-year old man died after he was blown into the side of a moving bus by strong winds. The incident took place near Finchley Central Tube station on 5 December, a Metropolitan Police representative confirmed.
On 7 December night, Electricity North West confirmed that 1,450 properties in Cumbria, mostly in Carlisle, and 42,000 across Lancaster, Morecambe, Heysham and Carnforth were without power. Around 19,000 customers in Lancaster are being serviced by generators, and more such units are being brought in for these homes.
There are more than 100 flood warnings and alerts in place in England and Wales and more than 20 are in place for Scotland. Train services between England and Scotland via Preston have been suspended and there are road closures in affected areas.
In Cumbria, the majority of schools will re-open on Tuesday except for 11 which will remain closed. Lancaster University has cancelled lessons for the rest of the term after losing power across much of its campus site.
Five rescue centres have been set up in Cumbria to take in residents who have been forced to flee their homes due to rising waters or lack of power. Cumbria Partnership NHS Foundation Trust has warned that it is running only essential services.
Residents in parts of Cumbria are being given bottled water to drink because treatment works have been flooded. There are reports that sewage has been forced onto the streets, Sky News reported.
Cumbria, which is the worst hit county, has seen several of its bridges and roads being washed away with many others declared unsafe pending safety checks. The floods have raised questions on why the multi-million-pound flood defences that were upgraded in 2010 to withstand a "once in 100 years" flood, were breached at the weekend.
Cameron describes flooding as 'absolutely horrific'
Prime Minister David Cameron who visited the region on 7 December, promised that the Environment Agency would carry out a study to assess the flood barriers and to learn from the widespread flooding, which hit the region in 2009 and 2005. "The emergency services have been brilliant but that's no consolation to people who you know, face a very wet few days and then not perhaps being home for Christmas," Cameron said.
He added: "But after every flood the thing to do is sit down, look at the money you are spending, look at what you are building, look at what you are planning to build in the future and ask, 'Is it enough? And that's exactly what we will do."
He described the flooding as "absolutely horrific" and that the government would fully reimburse councils for the costs of dealing with the floods. Labour leader Jeremy Corbyn has accused the government of making "false promises" on dealing with flood defences.