Grime star Stormzy has bravely opened up about his battle with depression. In a candid interview, the Big For Your Boots rapper explains how he hit a low point and felt compelled to share his experience through music on his debut album Gang Signs & Prayer.
Stormzy's friend and BBC Radio 1Xtra DJ Twin B has also explained the importance of speaking about mental health issues in music.
Stormzy, who is on course to land at number one with his critically-acclaimed debut album, abruptly took a break in September 2016, cancelling concerts and stepping away from social media.
Fans wondered why he would take a hiatus in the midst of his rise to fame but Stormzy now explains how he could no longer feign happiness.
In an interview with Channel 4, the MC said: "For me, it was a realisation of how fragile we are as humans. In the most beautiful way possible.
"In the sense where I always saw myself as this strong person who just deals with life, I get on with it – and if something gets me low, I pick myself back up. That's always been my philosophy. Even down to the point where one of my closest friends who was suffering from it, I used to dismiss him."
The Shut Up rapper continued: "It wasn't a harsh way, I just used to think, 'Just be happy', do you know what I mean? 'Just pull it together'. That was a world that was so alien to me. I just used to think, you get up, march on. So it felt like on this album, if I didn't address that, what I was going through... because even then I had another complex, where I thought 'OK, I went through this – but I don't even know if I want the world to know if I went through this'."
Stormzy references his depression on the album track Lay Me Bare, with lyrics including: "Lord please help me, I'm breaking down... I know they see me climbin' charts/But plaques won't help me find my heart." While he is voluntarily open about his struggle now, Stormzy admits he considered keeping it private.
However he soon changed his mind, explaining: "What convinced me to talk about it was the fact that if there's anyone out there going through it, I think to see that I went through it would help."
Watch Stormzy talk about his depression:
He continued: "I feel like I always come across confidently and happy, and I've always made sure that I don't promote [the] negative... I just present myself in a positive way so I can spread that. So people will be looking at me, thinking I don't go through nothing. So for me to just let people know, 'No, I do. I do go through that'. I thought that was important for people to know that."
Mental health is often a taboo subject in the music industry. IBTimes UK learned of Stormzy's plight in February at the Brits Week event Meet The Influencers, where Twin B, an Island Records A&R executive, detailed the rapper's ordeal. Twin B said: "You see artists who have given themselves on-stage and when they come off, they're just empty. As an A&R, half of what I do is to protect them from a lot of the negativity and darkness that happens.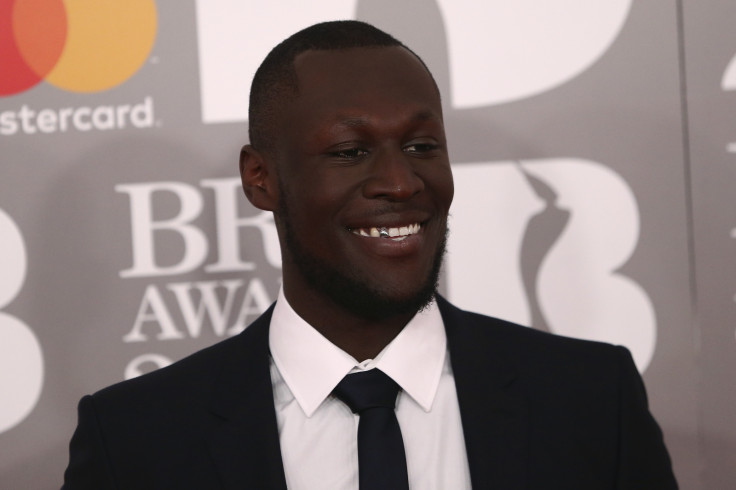 "Half of the reason [Stormzy] disappeared for a certain amount of time – and I think he'll end up talking about it – is because he literally went through it. He found it really difficult to cope with the fame, pressures of the album, having a girlfriend, family, being from where he's from. It can be really daunting. I remember having a conversation with him and thinking, 'Wow'. People talk about this guy all the time but this is a human being who's going through a lot."
Twin B added: "These people who are offering more than we could, they've been given a talent that needs to be protected and mental health is something that needs to constantly be in conversation because it's important."
---
The Samaritans provides a free support service for those who need to talk to someone in the UK and Republic of Ireland. It can be contacted via Samaritans.org or by calling 116 123 (UK) or 116 123 (ROI), 24 hours a day, 365 days a year.