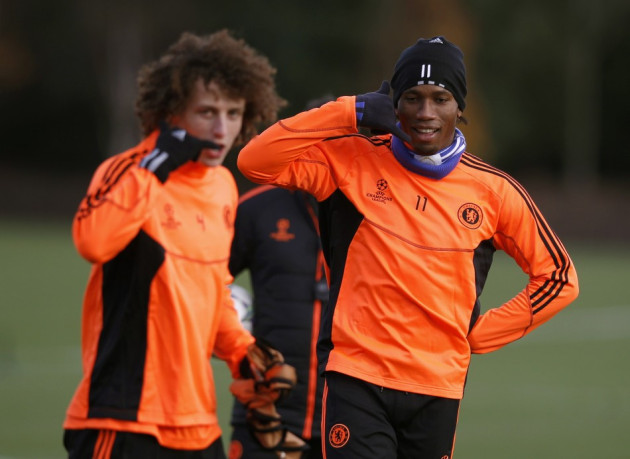 Didier Drogba has reiterated his commitment to Chelsea and insists he will stay in west London until the end of the season.
The Ivory Coast international has been heavily linked with a move to Tottenham in recent weeks, as manager Andre Villas-Boas looks to offload a number of senior players in his squad.
The Chelsea manager has already accepted transfer requests from Alex and Nicolas Anelka after he indicated the pair had no future at Stamford Bridge.
Petr Cech, Salomon Kalou, Jose Bosingwa and Paulo Ferreira have all been identified as surplus to requirements according to recent reports, but Drogba has revealed he has no plans to leave in January.
"I always said that I will honour my contract with Chelsea until the very end and for the moment, the end is 2012," Drogba told the Evening Standard.
"But I am fine here and my personal case is not an important factor for me. The important thing is to try and get Chelsea back to the summit of the Premier League.
"Has all the talk of Chelsea struggling been exaggerated? No, it's fact. We have been struggling, that is part of the game. You can't be fresh and win every match but I hope [the win against Newcastle] it is the end of our crisis."
The 33-year-old, who scored the opening goal in Chelsea's 3-0 win at Newcastle on Saturday, is determined to win his place back in the first-XI.
"We have to keep the aspects we did in the game against Newcastle. We defended well and the team was strong. Even if we made mistakes we were all together trying to correct them.
"We had a bit more luck than in the other games. A win away against Newcastle, who are a very good team, is good for our confidence and good for us to prepare for our Champions League game against Valencia."
Tuesday's game against Valencia is the biggest match of Villas-Boas' short Chelsea career. The Blues require a win or a goalless draw to qualify for the last-16 of the Champions League.
Striker Daniel Sturridge admits back-to-back wins against Wolves and Newcastle has put Chelsea in a strong position to advance in tonight's vital clash.
"We always had confidence because we played some good football against Newcastle and against Wolves, and it gives us the belief that we can go out there and play the way we want to," the striker told Chelsea's official Web site.
"The mood in the camp has been great; everybody is bubbling and playing with a smile on their face. We know we can win this game."
Manager Andre Villas-Boas insists the Blues will be going for the win against Valencia, rather than playing for the goalless draw that would also take them through.
"People have seen us play enough now to be sure we always take the initiative in games," said Villas-Boas.
"We know that Valencia want to get something because a goal for them makes the game even more difficult for us, but we won't change our strategy just because it is an important game.
"We will take the initiative and we don't play counter attack or use the long balls. We want good quality possession football and that is what we will do tomorrow."
The Portuguese coach admits his philosophy has come under scrutiny following an indifferent start to his Chelsea career but he backed the Blues to secure qualification at Stamford Bridge tonight.
"During this campaign of five games we have done pretty well in terms of performances but the small details have run away from us in the last few minutes, at Valencia and at Leverkusen, and if that had not happened it would have been different," he said.
"We started strongly against Leverkusen at home, a good game. The game in Valencia was a win there for the taking and maybe at that stage would have put Valencia in a very difficult position, but we have made a mistake that we paid for.
"Against Genk at home we played well but didn't do our job away so we blame ourselves for that. Then away to Leverkusen we did everything right but conceded a late goal."