England bowler Stuart Broad should be dropped for the 2nd test against India in Mumbai, according to former captain Ian Botham.
After going 1-0 behind in the four match test series, Botham believes the tourists should ring the changes for the second test after an emphatic nine-wicket defeat.
With Ian Bell returning home for the birth of his child, Botham is also keen to see Jonny Bairstow and Eoin Morgan recalled and Monty Panesar and Steven Finn included in the bowling attack.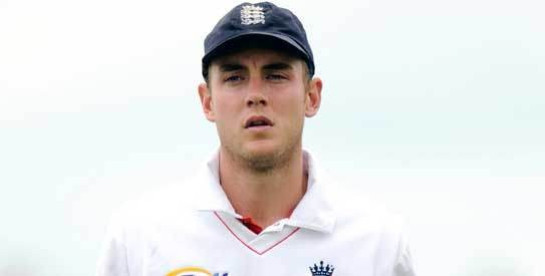 "I do think you need to have some changes," Botham said. "I'm not going to change the top four because they won't change the top four, so you stay with that. Pietersen and Trott swapping round is a possibility. After that I want to see Bairstow in and Morgan.
"I want Finn because he's got pace, short sharp bursts and he can reverse it and he's tall. Anderson is the leader of the pack. Panesar and Swann to operate and do the bulk of then bowling.
"I think it's time to move things on a little bit, put a little bit of pressure on. If those at the top, take Cook out of the equation, if Trott and Pietersen don't come to the party in Mumbai then there position becomes under threat as well.
"You do need to put some fresh blood in there and I think you need some players who are a little bit different. Morgan is a little bit unorthodox, he didn't have a great time in the UAE but he's changed his game plan since then I just think it's time to move on."
Broad finished with match figures of 0-97 with the ball while contributing 28 runs across two innings with the bat on a pitch which suited the hosts' spinners and nullified the threat of England's pace trio, with James Anderson and Tim Bresnan enduring problems also.
Similar conditions will meet both sides in Mumbai on Friday, meaning a persistence with pace might be futile with England possessing another front-line spinner in their ranks.
Broad has reacted to the opinion of Botham that he should be rested for the second test with an angry repost on Twitter.
"India outplayed us. A few positives but on the whole poor so sorry for that. Onwards and upwards," Broad tweeted.
"And before u listen to too many ex playing 'experts' being negative, ask them if they ever won a Test series in India.
"On DRS. I hear 12 decisions would have been overturned in the Test. Potentially match changing but India would have had 8 of them."