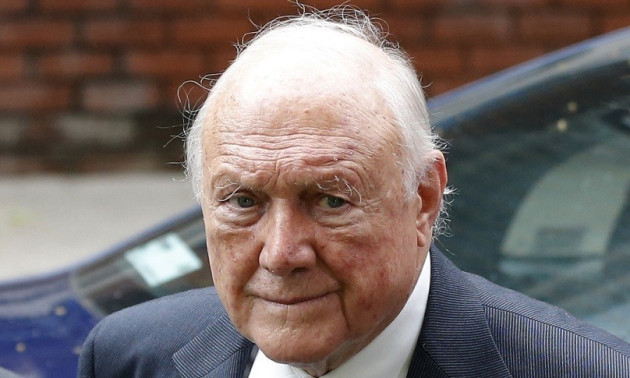 Disgraced former BBC broadcaster Stuart Hall has been rearrested on two further child sex offences one day after being stripped of his OBE.
Hall, 83, is currently serving a 30-month jail sentence after admitting to 14 counts of indecent assault relating to 13 girls aged between nine and 17. His original 15-month sentence was increased after the Court of Appeal ruled it was too lenient.
The former It's a Knockout presenter has now been arrested on suspicion of two further offences against two females aged between 12 and 15 at the time. The offences are alleged to have taken place between 1974 and 1980.
His arrest comes one day after it was confirmed he would be stripped of his OBE for "bringing the system into disrepute".
A Lancashire Police spokesperson said: "An 83-year-old man from Wilmslow in Cheshire was produced from prison and arrested by detectives on suspicion of a number of sexual offences.
"The allegations are historic and relate to two alleged female victims aged between 12 and 15 at the time.
"They allegedly took place in the Manchester and Derbyshire area between 1974 and 1980. The man will be interviewed at a Lancashire police station during the course of the day.
"We take all allegations of sexual abuse extremely seriously."
Hall eventually admitted to indecently assaulting 13 girls as young as nine between 1967 and 1986 after previously describing the claims as "callous, cruel and above all spurious".
Hall was awarded an OBE in the 2012 New Years Honours List. Following confirmation he would be stripped of the honour, a notice in The London Gazette read: "The Queen has directed that the appointment of James Stuart Hall to be an Officer of the Civil Division of the Most Excellent Order of the British Empire, dated 31 December 2011, shall be cancelled and annulled and that his name shall be erased from the Register of the said Order."
The Crown Prosecution Service (CPS) described the former football commentator as an "opportunistic predator".