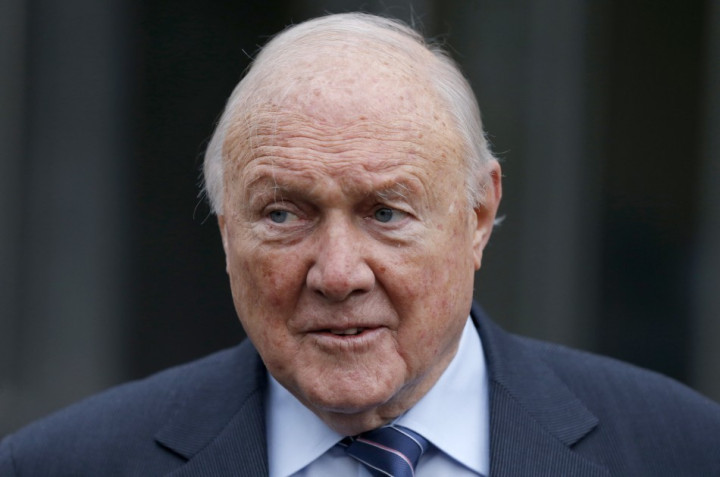 Update: Stuart Hall Jailed for 15 Months for Indecent Assault of Young Girls
Veteran BBC broadcaster Stuart Hall has pleaded guilty to 14 counts of indecent assault against girls aged between nine and 17.
Hall, 83, who was described by the CPS as an "opportunistic predator", pleaded guilty at Preston Crown Court to the offences relating to 13 girls between 1967 and 1986.
The former It's A Knockout presenter entered the pleas last month but they can only be revealed today after reporting restrictions were lifted.
One count of rape and three other indecent assaults will lie on his file. He will be sentenced on June 17.
Hall admitted to molesting a nine-year-old girl by putting his hand up her dress. He also admitted to kissing and fondling his other victims over a 19-year-period.
Hall's lawyers said he wished to apologise to his victims.
His barrister, Crispin Aylett QC, said: "He is not a man easily moved to self-pity but he is all too aware that his disgrace is complete."
Nazir Afzal, chief crown prosecutor for the Northwest, said: "The evidence of the victims clearly established a pattern of behaviour which was unlawful and with no innocent explanation.
"His victims did not know each other and almost two decades separated the first and last assaults but almost all of the victims, including one who was only nine at the time of the assault, provided strikingly similar accounts.
"Whether in public or private, Hall would first approach under friendly pretences and then bide his time until the victim was isolated.
"This case clearly shows that the victims of abuse will not be denied justice by the passage of time and abusers will be held to account."
Det Chief Insp Neil Esseen, of Lancashire Constabulary, said: "The admissions of Mr Hall will at least spare his victims the ordeal of having to recount their abuse at a trial.
"They have lived with what happened for a long period of time and it cannot have been easy for them to come forward, especially as when they did so, they did not know there were others who had also suffered abuse. I would personally like to pay tribute to the victims for their bravery in coming forward to report these crimes.
"The fact that these convictions have come a long time after they were committed shows that we will always take any allegations of sexual abuse extremely seriously and will investigate them thoroughly no matter how long ago they happened. We will always strive to protect our communities, no matter the status of the alleged perpetrator."
Hall had previosuly denied the "pernicious, callous, cruel and spurious" accusations against him. He told reporters his life had been "a living nightmare" since he was arrested.
Hall is best known for his distinctive commentating style and has been a broadcaster for the past 50 years. In December 2011 he was awarded an OBE in the Queen's New Year Honours list for services to broadcasting and charity.
READ:
Decline and Fall of BBC's Stuart Hall: From Household Name to Child Sex Predator