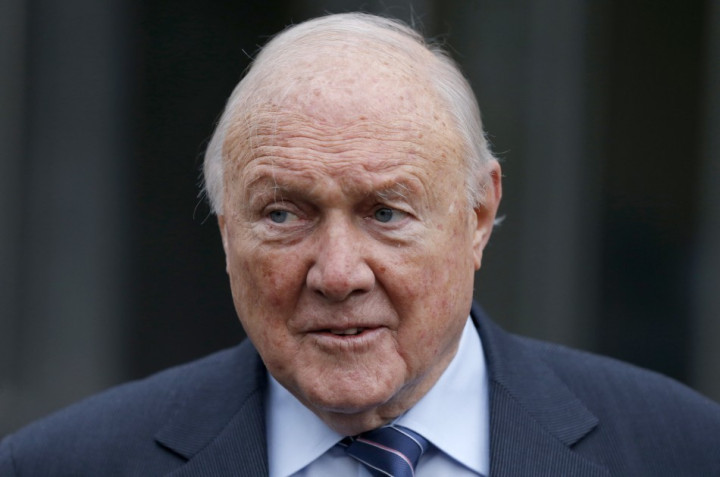 Disgraced BBC broadcaster Stuart Hall has said he "deeply regrets his actions" after admitting to indecently assaulting 13 girls aged between nine and 17.
Hall, 83, pleaded guilty to 14 accounts of indecent assault between 1967 and 1986 at Preston Crown Court.
Described as an "opportunistic predator" by the Crown Prosecution Service, the former It's A Knockout presenter will be sentenced on 17 June.
After his plea, Hall, of Wilmslow, Cheshire, said he wanted to apologise to his victims after his lawyers told the court: "He is all too aware that his disgrace is complete."
Hall's lawyers, Brabners Chaffe Street, said: "Mr Hall deeply and sincerely regrets his actions. He wishes to issue an unreserved apology to the individuals concerned.
"He now accepts his behaviour and actions were completely wrong and he is very remorseful.
"Mr Hall also wishes to apologise to his family, friends and supportive members of the public for whom he has high regard and respect.
"The last five months have been a strain and an ordeal for his family, who are standing by him. He asks for privacy during the next few weeks and he emphasises that he is contrite and faces punishment with fortitude and remorse.
"Mr Hall will not be making any further comment at this stage."
The veteran broadcaster has been dropped by the BBC, where he worked for more than 50 years as a presenter and football commentator.
A spokesman for the corporation said: "The BBC is appalled by the disgraceful actions of Stuart Hall and we would like to express our sympathy to his victims.
"We will continue to work with the police to assist them in this and any other inquiries they are making."
Following his initial arrest in December, Hall repeatedly denied the charges against him, describing them as "pernicious, callous, cruel and spurious" .
He also said that he had considered suicide because his life had become a "a living nightmare" in the wake of his arrest.
Hall also questioned why his victims had taken so long to come forward.
Hall admitted molesting a nine-year-old girl by putting his hand up her dress. He also admitted to kissing and fondling his other victims over a 19-year-period.
Det Chief Insp Neil Esseen, of Lancashire Constabulary, said: "The admissions of Mr Hall will at least spare his victims the ordeal of having to recount their abuse at a trial."
READ:
Decline and Fall of BBC's Stuart Hall: From Household Name to Child Sex Predator